---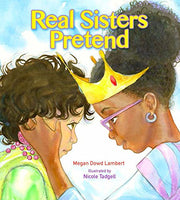 by Megan Dowd Lambert, illustrated by Nicole Tadgell
Tilbury House Publishing
08/27/2019, hardcover
SKU: 9780884487845
This warm, engaging story, which unfolds entirely through the conversation of two adopted sisters, was inspired by the author's own daughters, whom she overheard talking about how adoption made them real sisters even though they have different birth parents and do not look alike. "I liked how they took care of one another in their pretend-play scenario about climbing a mountain," Lambert says, "and I loved how they also took care of one another's feelings as they talked about adoption." Real Sisters Pretend captures these interactions perfectly and movingly. Told with simple words and playful illustrations, this book touches on the topics of adoption, two moms, and multiracial family life. Illustrated by award-winning artist Nicole Tadgell.
Target age: 6 to 8
Reviews: 
"Where was Real Sisters Pretend when I was growing up as an adoptee? A must have picture book, especially in today's world of varying family structures." -- Chris Soentpiet, illustrator of JIN WOO, AMAZING FACES, MY BROTHER MARTIN, and other books for young readers.
"Joy. Love. Connectedness. These are all such hugely important things to hold onto right now in the midst of difficult times. It's paramount that we keep on emphasizing to kids how loved they are, that family is family no matter what form it takes, that what matters is that we choose each other, always. Real Sisters Pretend (2016) by Megan Dowd Lambert, illustrated by Nicole Tadgell, explores that idea of chosen family so beautifully. It's a playful, joyful story of adoptive sisters, discussing their connection to each other and the misunderstandings of those outside their family. While it is clearly written specifically to the topic of adoption, the dialogue is true to life and highly entertaining. And I love the matter-of-fact choice of the author to make this a two-mom family. Because family is family, and that's the whole point of the story." -- Noodlenuts Children's Books

About the Contributors:
Megan Dowd Lambert teaches in the graduate programs in Children's Literature at Simmons College. At the Eric Carle Museum of Picture Book Art she developed two original storytime models, the Whole Book Approach and A Book in Hand, which are aimed at engaging readers with the picture book as a visual art form. A frequent speaker at professional conferences, schools, libraries, and museums, she reviews children's books for Kirkus Reviews and Horn Book and contributes to Horn Book Magazine's Books in the Home column. A mother of six children ranging from infancy to college-aged, Megan lives with her family in Massachusetts. Her books include A Crow of His Own and Reading Picture Books with Children: How to Shake Up Storytime and Get Kids Talking about What They See.
Nicole Tadgell's illustrations have been featured in The Encyclopedia of Writing and Illustrating Children's Books and in numerous exhibitions. She has taught workshops and classes at the Worcester Art Museum, the Eric Carle Museum of Picture Book Art, and at Society of Children's Book Writers and Illustrators (SCBWI) conferences. Nicole also lectures at New England schools and colleges and demonstrates the picture book process in classrooms, libraries, and bookstores. Her award-winning children's books include Real Sisters Pretend, First Peas to the Table, In the Garden with Dr. Carver, Lucky Beans, and Fatuma's New Cloth.