---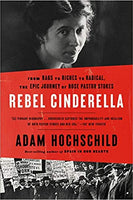 by Adam Hochschild
Mariner Books
3/2/2021, paperback
SKU: 9780358522461
The astonishing but forgotten story of an immigrant sweatshop worker who became one of the most charismatic radical leaders of her time
Rose Pastor arrived in New York City in 1903, a Jewish refugee from Russia. Two years later, she swept headlines when she married James Graham Phelps Stokes, scion of New York high society. Together, this unusual couple moved among the liveliest group of Socialist activists and dreamers this country has ever seen, including Emma Goldman, Eugene Debs, Margaret Sanger, and W.E.B. Du Bois. Rose stirred audiences to tears, led labor strikes, and distributed birth control information alongside the country's earliest feminists. President Woodrow Wilson called her "one of the dangerous influences of the country." Rebel Cinderella unearths the rich, overlooked life of a social justice campaigner truly ahead of her time.
Reviews:
"Hochschild's historical account is both gripping and occasionally heartbreaking." --Shelf Awareness
"Adam Hochschild recounts the incredible story of Rose Pastor Stokes, a Jewish immigrant from Eastern Europe who toiled in a cigar factory, met and married a rich socialite, and became an infamous socialist firebrand. The book is chock-full of fascinating characters and stories, with Stokes and her comrades often recounting their dramatic lives in their own words." --Tyler Anbinder, author of City of Dreams
About the Author:
Adam Hochschild is the best-selling author of ten books, including King Leopold's Ghost and To End All Wars, both finalists for the National Book Critics Circle Award. His Bury the Chains was a finalist for the National Book Award.