---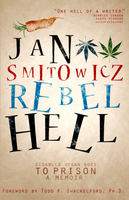 by Jan Smitowitz
Jan Smitowitz
2017, paperback
SKU: 9781541024496
Author-activist Jan Smitowicz was arrested in 2010 after an illegal search and seizure, eventually spending two years in Illinois state prisons for marijuana. Rebel Hell: Disabled Vegan Goes to Prison is an enthralling, poignant, wildly creative, and startling narrative about his descent into the kaleidoscopic "Prison Vortex." In the foreword,Todd Shackelford, Ph.D., Psychology Department Chair at Michigan's Oakland University, writes that Smitowicz's new book is "Beautifully crafted, outrageously candid, deeply empathic, and often uproariously funny . . . a remarkable story."
Written with unequaled stylistic flair, Smitowicz's Rebel Hell is a trailblazing addition to the great pantheon of socially relevant prison stories. The narrative is brimming with absurd barbarism and corruption. Like the underfed author's weight-plummet of 19 pounds in just 27 days. Like the rampant mistreatment of inmates' serious medical issues by sadistic guards and health care staff. And like the state's unbelievable offer to cut his sentence nearly in half - from seven years to four - if he paid a $25,000 "fine, allowing Smitowicz and his family to literally buy less prison time! Yet Rebel Hell's relentless, unabashed humor [humor that is darker than the Marlboro Man's coffee [and his lung cancer]] delivers terrific reprieve from the awful circumstances. Smitowicz also somehow manages to find great beauty "Inside the razor-wire fences." His lyrical descriptions of multi-seasonal landscapes and weather and the prisons' nonhuman residents are like vivid blooming flowers amid the drear-gray monotony of prison life. The memoir also shines much- needed light on the catastrophic Drug War and the innately undemocratic, racially biased nature of America's so-called Justice System. Ultimately, Rebel Hell coalesces into a disturbing microcosm of contemporary U.S. society-and an unforgettably original story.
Note that Burning Books' copies of this title are signed by the author!