---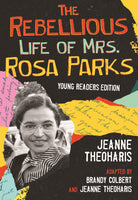 by Jeanne Theoharis, Adapted by Brandy Colbert and Jeanne Theoharis
Beacon Press
2/2/2021
SKU: 9780807067574
Rosa Parks is one of the most well-known Americans today, but much of what is known and taught about her is incomplete, distorted, and just plain wrong. Adapted for young people from the NAACP Image Award-winning The Rebellious Life of Mrs. Rosa Parks, Jeanne Theoharis and Brandy Colbert shatter the myths that Parks was meek, accidental, tired, or middle class. They reveal a lifelong freedom fighter whose activism began two decades before her historic stand that sparked the Montgomery bus boycott and continued for 40 years after. Readers will understand what it was like to be Parks, from standing up to white supremacist bullies as a young person to meeting her husband, Raymond, who showed her the possibility of collective activism, to her years of frustrated struggle before the boycott, to the decade of suffering that followed for her family after her bus arrest. The book follows Parks to Detroit, after her family was forced to leave Montgomery, Alabama, where she spent the second half of her life and reveals her activism alongside a growing Black Power movement and beyond.
Because Rosa Parks was active for 60 years, in the North as well as the South, her story provides a broader and more accurate view of the Black freedom struggle across the twentieth century. Theoharis and Colbert show young people how the national fable of Parks and the civil rights movement--celebrated in schools during Black History Month--has warped what we know about Parks and stripped away the power and substance of the movement. The Rebellious Life of Mrs. Rosa Parks illustrates how the movement radically sought to expose and eradicate racism in jobs, housing, schools, and public services, as well as police brutality and the over-incarceration of Black people--and how Rosa Parks was a key player throughout.
Rosa Parks placed her greatest hope in young people--in their vision, resolve, and boldness to take the struggle forward. As a young adult, she discovered Black history, and it sustained her across her life. The Rebellious Life of Mrs. Rosa Parks will help do that for a new generation.
Target age: 12+
Reviews:
"A must-read for young people." -- Bryan Stevenson, author of Just Mercy
"In a moving work that documents Rosa Parks's misunderstood role within the civil rights movement, Theoharis and Colbert bring the fast moving dynamism of the movement's history to life. The Rebellious Life of Mrs. Rosa Parks rescues Rosa Parks from the mythologies of civil rights lore by instead situating her within the long twentieth-century Black Freedom struggle, both North and South, as an activist and an organizer. Highly accessible and eminently readable, this book is retooling with the next generation of would-be activists with the politics and history that can help them forge new paths in the ongoing struggle to make Black lives matter." -- Keeanga-Yamahtta Taylor, author of From #BlackLivesMatter to Black Liberation and Race for Profit: How Banks and the Real Estate Industry Undermined Black Homeownership
"Mrs. Parks's 'rebellious' life always challenged inequality and injustice, even before she refused to give up her seat on a Montgomery, Alabama, bus in 1955. This revealing life story introduces readers to a woman whose courage and vision we can all emulate. Above all else, Mrs. Parks believed that young people would carry the civil rights movement forward, and Theoharis and Colbert show how to do just that through a thrillingly vivid account of how one woman learned to do her part to change the world." -- Martha S. Jones, author of Vanguard: How Black Women Broke Barriers, Won the Vote, and Insisted on Equality for All
"The Rebellious Life of Mrs. Rosa Parks offers young readers a detailed exploration of an iconic freedom fighter. In clear and moving prose, Theoharis and Colbert reintroduce a woman who spent the majority of her life fighting on behalf of Black people and women. Young readers will learn that while Rosa Parks is most widely known for her courage connected to the Montgomery bus boycott, her story really represents a lifetime of fierce commitment to social justice." -- Erica Armstrong Dunbar, author of She Came to Slay: The Life and Times of Harriet Tubman

About the Contributors:
Jeanne Theoharis is Distinguished Professor of Political Science at Brooklyn College of City University of New York and the author or coauthor of numerous books and articles on the civil rights and Black Power movements and the contemporary politics of race in the US. Her books include The Rebellious Life of Mrs. Rosa Parks (winner of a 2014 NAACP Image Award) and A More Beautiful and Terrible History (winner of the 2018 Brooklyn Public Library Literary Prize for Nonfiction). Connect with her on Twitter (@JeanneTheoharis).
Brandy Colbert is the award-winning author of several books for children and teens, including The Only Black Girls in Town, The Voting Booth, and the Stonewall Book Award Winner Little & Lion. She is the cowriter of Misty Copeland's Life in Motion young reader's edition. Her books have been chosen as the Junior Library Guild selections and have appeared on many best-of lists, including the American Library Association's Best Fiction for Young Adults. She is on faculty at Hamline University's MFA program in writing for children and lives in Los Angeles.