---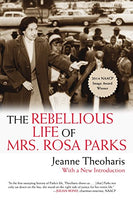 by Jeanne Theoharis
Beacon Press
11/25/2015, paperback
SKU: 9780807076927
The definitive political biography of Rosa Parks examines her six decades of activism, challenging perceptions of her as an accidental actor in the civil rights movement.

When Rosa Parks died in October 2005, she became the first woman and second African American to lie in honor at the nation's capital. Yet much of the memorialization reduced her historical contribution to a single act on a bus on a long-ago December evening. In this revealing and comprehensive biography-the first critical treatment of Parks's life-historian Jeanne Theoharis shows that the standard portrayal of Rosa Parks as a quiet and demure accidental actor is far from true.

Presenting a powerful corrective to the popular iconography of Rosa Parks as the quiet seamstress who with a single act birthed the modern civil rights movement, Theoharis excavates Parks's political philosophy and six decades of political work to reveal a woman whose existence demonstrated-in her own words-a "life history of being rebellious." From her family's support of Marcus Garvey to her service with the NAACP in Alabama in the 1940s and 1950s, and from her courageous bus arrest and steadfast efforts on behalf of the Montgomery bus boycott to her work in Detroit challenging Northern racial inequality on behalf of a newly elected Congressman John Conyers and alongside Black Power advocates, Parks's contributions to the civil rights movement go far beyond a single day. Even as economic hardship and constant death threats exacted a steep toll on Rosa and her husband, Raymond, she remained committed to exposing and eradicating racial inequality in jobs, schools, public services, and the criminal justice system.

In The Rebellious Life of Mrs. Rosa Parks, Theoharis masterfully details the political depth of a national heroine who dedicated her life to fighting American inequality and, in the process, resurrects an inspiring civil rights movement radical who has been hidden in plain sight far too long.
2014 NAACP Image Award Winner for Outstanding Literary Work Biography/Autobiography