---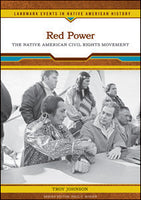 by Troy R. Johnson
Chelsea House
2007, hardcover
SKU: 9780791093412
The 71-day occupation of the village at Wounded Knee-February 27 to May 8, 1973-is a watershed event in the chronology of American Indian activism because it reflects both the height of the American Indian Movement (AIM) and the beginning of the end of the power of that organization. It was at Wounded Knee Village where government forces surrounded a small, poorly armed band of AIM members who were protesting the death of Raymond Yellow Thunder and Wesley Bad Heart Bull and the subsequent court trials that meted out only minimal sentences for involuntary manslaughter to the non-Indian defendants. AIM members confronted local law enforcement and violently protested against the charges. As a result, the government declared a concentrated, no-holds-barred campaign to remove AIM leadership and to bankrupt the organization. The forceful text, detailed sidebars and chronology, and powerful images presented in Red Power transport readers back to this tense moment in recent American history.
"...well-organized and concise. Clear chronologies, extensive bibliographies, and lists for further reading make these books excellent tools for first-time researchers and history buffs alike." - School Library Journal 
Troy Johnson is chair of the American Indian Studies program and chair of the Department of Anthropology at California State University, Long Beach. His areas of expertise inlcude American Indian activism, federal Indian law, Indian child welfare, and Indian youth suicide. He is the author of several books, including The Occupation of Alcatraz Island: Indian Self-Determination and the Rise of Indian Activism and Distinguished Native American Spiritual Practitioners and Healers.