---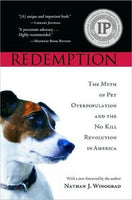 Sale
by Nathan J. Winograd
Almaden
2009
SKU:9780979074318
Shelter killing is the leading cause of death for healthy dogs and cats in the United States: some five million are killed in our nation's shelters every year. For far too long, we have been led to believe there is no other way. More than that, we have been told that this killing is the right thing to do.
In 1994, however, one shelter embarked on a bold and revolutionary approach to animal sheltering. Although every national animal welfare agency said it was impossible and every other community in the country continued to kill animals at an astonishing rate, San Francisco became the first city in the United States to end the killing of healthy homeless dogs and cats in shelters. The "No Kill" movement it inspired has the potential to end, once and for all, the century-old notion that the best we can do for homeless dogs and cats is to adopt out a few, and kill the rest.
This is the story of animal sheltering in the United States, a movement that was born of compassion and then lost its way. It is the story of the No Kill movement, which says we can and must stop the killing. It is about heroes and villains, betrayal and redemption. And it is about a social movement as noble and just as those that have come before. But most of all, it is a story about believing in the community and trusting in the power of compassion.