---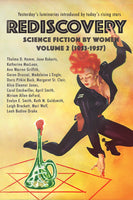 Edited by Gideon Marcus
Journey Press
2/28/2022, paperback
SKU: 9781951320188
Women write science fiction. They always have.
Rediscovery: Science Fiction by Women (1953-1957) offers, quite simply, some of the best science fiction ever written: 20 amazing pieces, most of which haven't been reprinted for decades...but should have been. Whether you are a long-time fan or new to the genre, you are in for a treat.
This collection of works - 18 stories, 1 poem, 1 nonfiction piece - are a showcase, some of the best science fiction stories of the '50s. These stories were selected not only as examples of great writing, but also because their characters are as believable, their themes just as relevant today, their contents just as fun to read, as when they were written almost three quarters of a century ago.
Dig in. Enjoy these newly-rediscovered delicacies a few at a time...or binge them all at once!
About the Editor:
Three time Hugo Finalist Gideon Marcus is the founder of Journey Press, an independent publisher focused on unusual and diverse speculative fiction. He also runs the time machine project, Galactic Journey. A professional space historian, he is a member of the American Astronautical Society's history committee.In 2019, he edited Rediscovery: Science Fiction by Women (1958-1963) a seminal anthology of some of the best works of science fiction's Silver Age. His most recent works, Kitra and Sirena, comprise books one and two of The Kitra Saga, a YA space adventure featuring themes of isolation, teamwork, and hope, and starring a queer protagonist of color.Gideon lives in San Diego County with his writer/editor wife, Janice, and their polymath artist daughter, Lorelei...along with a cat, a snake, and an immense library. He is currently hard at work on Hyvilma, third book in the Kitra Saga.