---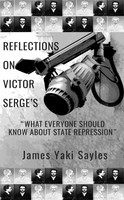 by James Yaki Sayles
The Rookery Press
2023, booklet
SKU: n/a
In the 1960s, as repression tightened, revolutionary groups needed an understanding of
how to shield themselves from the eyes and arms of the enemy. With security practices being very uneven in the movement, they had to start from the essentials. At that time, the New Left started passing around a translation of Victor Serge's little pamphlet, "What Everyone Should Know About State Repression." Serge had been a Russian revolutionary journalist and organizer, who had worked underground against the Czar's secret police and had a lot of first-hand experience. Yaki encouraged comrades to check Serge's booklet out; but since the Russian had lived back a century ago, in a time when you could do things like jumping on a streetcar to evade surveillance, Yaki wanted to update and reinforce the basic lessons. What resulted is a crucial primer on revolutionary operational security that is still desperately relevant today.
About the Publisher:
The Rookery Press returns rare revolutionary texts from the whirlwind to the masses.