---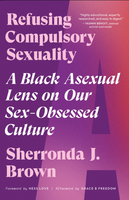 by Sherronda J. Brown
North Atlantic Books
09/13/2022, paperback
SKU: 9781623177102
For readers of Ace and Belly of the Beast A Black queer feminist exploration of asexuality -- and an incisive interrogation of the sex-obsessed culture that invisibilizes and ignores asexual and A-spec identity.
Everything you know about sex and asexuality is (probably) wrong.
The notion that everyone wants sex -- and that we all have to have it -- is false. It's intertwined with our ideas about capitalism, race, gender, and queerness. And it impacts the most marginalized among us. For asexual folks, it means that ace and A-spec identity is often defined by a queerness that's not queer enough, seen through a lens of perceived lack: lack of pleasure, connection, joy, maturity, and even humanity.
In this exploration of what it means to be Black and asexual in America today, Sherronda J. Brown offers new perspectives on asexuality. She takes an incisive look at how anti-Blackness, white supremacy, patriarchy, heteronormativity, and capitalism enact harm against asexual people, contextualizing acephobia within a racial framework in the first book of its kind. Brown advocates for the "A" in LGBTQIA+, affirming that to be asexual is to be queer -- despite the gatekeeping and denial that often says otherwise.
With chapters on desire, f*ckability, utility, refusal, and possibilities, Refusing Compulsory Sexuality discusses topics of deep relevance to ace and a-spec communities. It centers the Black asexual experience -- and demands visibility in a world that pathologizes and denies asexuality, denigrates queerness, and specifically sexualizes Black people.
A necessary and unapologetic reclamation, Refusing Compulsory Sexuality is smart, timely, and an essential read for asexuals, aromantics, queer readers, and anyone looking to better understand sexual politics in America.
Reviews:
"Highly educational, expertly researched, and easy to digest, Refusing Compulsory Sexuality eloquently reframes our understanding of asexuality, Blackness, and how the two intersect, providing an essential contribution to a discussion that is often dominated by white voices and perspectives." -- Yasmin Benoit, asexual activist and model
"Sherronda's writings continue to be a gift to the reader. With Refusing Compulsory Sexuality, they expand our understanding of gender, sexuality, and (anti-) Blackness with deftness and precision while also pushing us to rethink our understanding of asexuality and our relationships with ourselves and others. Without any doubt, people will find themselves in this book after spending years trying to find themselves elsewhere, and for those readers, this book will be home." -- Lara Witt, writer and editorial director of Prism
"A gloriously honest examination of asexual history and Blackness. Brown's words traverse binaries, exude care, and act as radical archive for those marked by the violence of cisheteropatriarchy. Rarely is a book this rich with history this capable of integrity. It captures the gaps and lives of those deemed unworthy of remembering. Refusing Compulsory Sexuality will change you and encourage you to reignite a world worthy of it." -- Amber Butts, author, editor, and organizer 
About the Author:
Sherronda J. Brown is a Southern-grown essayist, editor, and storyteller with a focus on media analysis and cultural critique, currently serving as Editor-in-Chief of Wear Your Voice Magazine. They have devoted much of their work to writing and thinking about asexuality, hoping to push conversations beyond what is familiar and comfortable in order to make new interventions about a topic and identity that has been long misunderstood.