---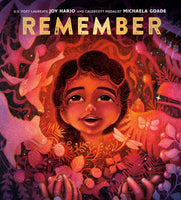 by Jo Harjo, Illustrated by Michaela Goade
Random House Studio
3/21/2023, hardcover
SKU: 9780593484845
US Poet Laureate Joy Harjo's iconic poem "Remember," illustrated by Caldecott Medalist Michaela Goade, invites young readers to pause and reflect on the wonder of the world around them, and to remember the importance of their place in it.
Remember the sky you were born under,
Know each of the star's stories.
Remember the moon, know who she is.
Remember the sun's birth at dawn,
That is the strongest point of time.
So begins the picture book adaptation of the renowned poem that encourages young readers to reflect on family, nature, and their heritage. In simple and direct language, Harjo, a member of the Mvskoke Nation, urges readers to pay close attention to who they are, the world they were born into, and how all inhabitants on earth are connected. Michaela Goade, drawing from her Tlingit culture, has created vivid illustrations that make the words come alive in an engaging and accessible way.
This timeless poem paired with magnificent paintings makes for a picture book that is a true celebration of life and our human role within it.
Target age: 4 to 8
Reviews:
"A contemplative, visually dazzling masterpiece that will resonate even more deeply each time it is read." -- Kirkus Reviews, starred review
"A beauty to behold... A rich and reverential tribute to life, family, and poetry." -- Booklist, starred review
"Evoking the cyclical feeling of a slow breath in and out, it's a smartly constructed, reflective picture book based in connection and noticing." -- Publishers Weekly, starred review
"Generation-spanning Native creators deliver a lustrous celebration of generational memory." -- The Horn Book, starred review
"Sparse words and the rhythmic use of anaphora with "Remember'' complement the overflowing pages that burst with intricate details, and those busy pages are perfectly balanced with objects and negative space." -- The Bulletin, starred review
"A significant work of children's literature, this paean to nature and Indigenous culture belongs in every school and public library collection for years to come." -- School Library Journal
"I am in awe of this breathtakingly beautiful picture book... It is incomparably stunning." -- Book Riot
About the Contributors:
Joy Harjo, the 23rd Poet Laureate of the United States, is an internationally renowned performer and writer of the Mvskoke Nation. Harjo is the author of ten books of poetry, several plays, children's books, and two memoirs; she has also produced seven award-winning music albums and edited several anthologies. Her many honors include the Ruth Lily Prize from the Poetry Foundation, the Academy of American Poets Wallace Stevens Award, two NEA fellowships, a Guggenheim Fellowship, the National Book Critics Circle Ivan Sandrof Lifetime Achievement Award, and a Tulsa Artist Fellowship. She is a chancellor of the Academy of American Poets and chair of the Board of Directors of the Native Arts & Cultures Foundation. She lives in Tulsa, Oklahoma, where she is the first artist-in-residence for the Bob Dylan Center. 
Michaela Goade (she/her) was awarded the Caldecott medal for the #1 New York Times bestselling We Are Water Protectors, written by Carole Lindstrom and the recipient of a Caldecott Honor for Berry Song, her authorial debut. She is also the illustrator of Tasha Spillett-Sumner's critically-acclaimed best-seller I Sang You Down from the Stars. Michaela is a member of the Tlingit Nation and grew up in her ancestral homelands along the southeast coast of Alaska, where she lives today on an island at the edge of a wide, wild sea.