---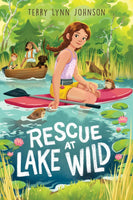 by Terry Lynn Johnson
Houghton Mifflin
4/27/2021, hardcover
SKU: 9780358334859
In this funny and moving animals-in-peril adventure, a twelve-year-old girl and her two best friends determine to rescue two orphaned beaver kits--and soon find themselves trying to solve a local environmental crisis. Perfect for fans of Pax and A Boy Called Bat.
Everyone knows that twelve-year-old Madison "Madi" Lewis is not allowed to bring home any more animals. After she's saved hairless mice, two birds, a rabbit, and a stray tom cat that ended up destroying the front porch, Madi's parents decide that if they find one more stray animal in the house, she won't be allowed to meet Jane Goodall at an upcoming gala event.
But when Madi and her two best friends, Aaron and Jack, rescue beaver kits whose mother was killed, they find themselves at the center of a local conspiracy that's putting the beavers and their habitats in danger. As Madi and her friends race to uncover the threat targeting the beavers, Madi must put her animal whisperer skills to the test in both raising the orphaned beaver kits and staying out of trouble long enough.
Reviews:
"An appealing and informative wildlife adventure."-- Kirkus
About the Author:

Terry Lynn Johnson, author of Ice Dogs, Sled Dog School, Dog Driven and the Survivor Diaries series, lives in Whitefish Falls, Ontario, where for ten years she owned a team of eighteen Alaskan Huskies.