---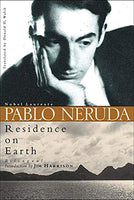 by Pablo Neruda, Translated by Donald D. Walsh
New Directions Publishing Corporation
7/17/2004, paperback
SKU: 9780811215817
In celebration of the 100th anniversary of Pablo Neruda's birth, New Directions is pleased to announce the reissue of a classic work in a timeless translation by Donald D. Walsh and fully bilingual. Residence on Earth is perhaps Neruda's greatest work. Upon its publication in 1973, this bilingual publication instantly became "a revolution... a classic by which masterpieces are judged" (Review). "In Residence on Earth," wrote Amado Alonso, "the tornado of fury will no longer pass without lingering, because it will be identified with [Neruda's] heart."
Reviews:
"The greatest poet of the twentieth century--in any language." --Gabriel Garcia Márquez
About the Author:
Pablo Neruda was born in 1904 in the town of Parral in Chile. He received numerous prestigious awards for his work, including the International Peace Prize in 1950, the Lenin Peace Prize and the Stalin Peace Prize in 1953. In 1971, he won the Nobel Prize for Literature. Two years later he died of leukemia in Santiago, Chile.