---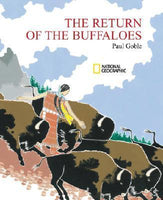 by Paul Goble
National Geographic Society Press
8/1/2002, paperback
SKU: 9780792265542
A Caldecott Medal winner brings a traditional tale of the Lakota people to vivid life.
The Return of the Buffaloes celebrates the close, mystical relationship between the Lakota people and the buffalo.
Reviews:
"Goble's . . . vivid retelling of a Lakota legend dances against the backdrop of highly stylized artwork, an homage to the relationship between man and buffalo and to beauty and design in nature."--"Publishers Weekly" starred review. Full-color illustrations
About the Author:
Paul Goble (1933-2017) was an English author and illustrator of more than 30 children's books. Inspired by Plains Indian culture, he was best known for writing stories about Native Americans, including The Legend of the White Buffalo Woman, The Death of the Iron Horse, and the Caldecott Medal-winning The Girl Who Loved Wild Horses.