---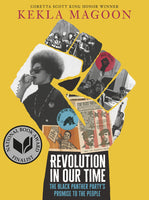 by Kekla Magoon
Candlewick Press
11/8/2021, hardcover
SKU: 9781536214185
A 2021 National Book Award Finalist

With passion and precision, Kekla Magoon relays an essential account of the Black Panthers--as militant revolutionaries and as human rights advocates working to defend and protect their community.
In this comprehensive, inspiring, and all-too-relevant history of the Black Panther Party, Kekla Magoon introduces readers to the Panthers' community activism, grounded in the concept of self-defense, which taught Black Americans how to protect and support themselves in a country that treated them like second-class citizens. For too long the Panthers' story has been a footnote to the civil rights movement rather than what it was: a revolutionary socialist movement that drew thousands of members--mostly women--and became the target of one of the most sustained repression efforts ever made by the U.S. government against its own citizens.
Revolution in Our Time puts the Panthers in the proper context of Black American history, from the first arrival of enslaved people to the Black Lives Matter movement of today. Kekla Magoon's eye-opening work invites a new generation of readers grappling with injustices in the United States to learn from the Panthers' history and courage, inspiring them to take their own place in the ongoing fight for justice.
Target age: 13 to 17 
Reviews:
"This comprehensive, meticulously researched volume helps readers understand the Panthers within the spectrum of Black resistance. The narrative is cinematic in its descriptions of the personalities and incidents that make up the party's history while presenting a throughline to the anti-racist activism of today. The book's attractive graphic design, with ample use of robin's egg blue in contrast to dramatic black-and-white photographs, and with memorable quotes scattered throughout, makes it visually pleasing. . . highly readable and not-to-be-missed." --Kirkus Reviews (starred review)
"A must-read for anyone interested in fighting injustice, this courageous book takes readers beyond what we think we know and provides an objective and insightful view of our nation's history."--NPR
About the Author:
Kekla Magoon's young adult novel The Rock and the River, which won the Coretta Scott King/John Steptoe New Talent Author Award, was the first mainstream novel for young people to feature the Black Panther Party. She is the Margaret A. Edwards Award-winning author of more than a dozen books for young readers, including Fire in the Streets and How It Went Down. She is also the coauthor, with Ilyasah Shabazz, of X: A Novel, which was long-listed for the National Book Award and received an NAACP Image Award and a Coretta Scott King Honor. Kekla Magoon grew up in Indiana and now lives in Vermont, where she serves on the faculty at Vermont College of Fine Arts.