---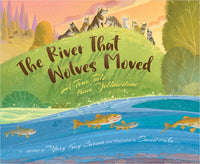 by Mary Kay Carson, illustrated by David Hohn
Sleeping Bear Press
09/15/2022, hardcover
SKU: 9781534111202
Long before its establishment as a national park in 1872, Yellowstone was home to the gray wolf, as well as other large predators. But the relationship between human and wolf has always been a tense and complicated one. Predator control programs were developed and, by the mid-1900s, wolves had almost been entirely eliminated from the region and even the lower United States. The removal of even one strand of an ecosystem's complex web can have a ripple effect, though. Using the structure of The House that Jack Built, science writer Mary Kay Carson shows the interconnectedness of the wildlife that lives in a place and how the presence (or absence) of a single species can impact an ecosystem so that the physical landscape itself is altered. Engaging text and colorful detailed artwork make the natural science understandable and accessible to young readers. With so many of Earth's ecosystems under threat by climate change, pollution, and loss of habitat, this is a critical and timely topic. Back matter includes information on the Yellowstone region during the wolves' absence and after their reintroduction.
Target age: 4 to 8
About the Contributors:
Mary Kay Carson is the author of nonfiction books for young people. Her book Alexander Graham Bell for Kids received a 2019 AAAS/Subaru SB&F Prize for Excellence in Science Books. She's written titles in Houghton Mifflin Harcourt's acclaimed Scientists in the Field series, including Park Scientists: Gila Monsters, Geysers, and Grizzly Bears in America's Own Backyard and The Bat Scientists, an ALA's 2011 Notable Children's Books for Middle Readers. She lives in Cincinnati, Ohio, with her photographer husband Tom Uhlman in a century-old house surrounded by urban greenspace, deer, hawks, woodchucks, and songbirds.
David Hohn is an illustrator based in Portland Oregon. His days are spent in the studio imagining what it would be like to be someone else, doing something else – and then he paints it.