---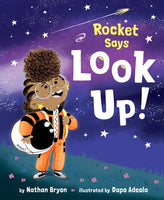 by Nathan Bryon, Illustrated by Dapo Adeola
Random House Books for Young
6/25/2019, hardcover
SKU: 9781984894427
Meet Rocket--a plucky aspiring astronaut intent on getting her community to LOOK UP! from what they're doing and reach for the stars in this auspicious debut picture book. Honored as a Chicago Public Library 2019 Best of the Best Book!
A comet will be visible tonight, and Rocket wants everyone to see it with her--even her big brother, Jamal, whose attention is usually trained on his phone or video games. Rocket's enthusiasm brings neighbors and family together to witness a once-in-a-lifetime sighting. Perfect for fans of Ada Twist, Scientist and Cece Loves Science--Rocket Says Look Up! will inspire readers of all ages to dream big as it models Rocket's passion for science and infectious curiosity.
Author Nathan Bryon, an actor and screenwriter, and Dapo Adeola, a community-minded freelance illustrator, bring their fresh talents, passion, and enthusiasm to the picture book medium.
Reviews:
"Ideal for space or science-inclined readers, this book includes brief information about outstanding scientist Jemison and a short list of facts about meteors and comets enclosed in an embrace of family relationships and a child's joy in the world around her." -- School Library Journal
"The sweet, uncomplicated story for young space lovers is peppered with interesting facts about meteors and Mae Jemison, and has bright, colorful, humorous illustrations that subtly but deliberately represent a vibrant, multiethnic, multicultural neighborhood engaging in a community event." --Booklist
About the Contributors:
Nathan Bryon is a British actor and writer who has written for BAFTA Award-winning children's TV shows. He's a rising star in the world of screenwriting and has an animated series, Afro Kid, currently under option in England. He lives in London.
Dapo Adeola creates characters and images that challenge assumptions about gender, race, and ethnicity in a fun and upbeat way. He runs illustration and character-design workshops in and out of schools, to help spotlight the possibility of a career in illustration for inner-city children. He lives in London.