---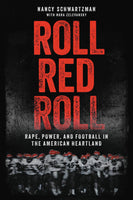 by Nancy Schwartzman, with Nora Zelevansky
Hachette Books
7/12/2022, hardcover
SKU: 9780306924361
An incisive narrative about a teen rape case that divided a Rust Belt town, exposing the hostile and systemic undercurrents that enable sexual violence, and spotlighting ways to make change.
In football-obsessed Steubenville, Ohio, on a summer night in 2012, an incapacitated sixteen-year-old girl was repeatedly assaulted by members of the "Big Red" high school football team. They took turns documenting the crime and sharing on Facebook, Twitter, and YouTube. The victim, Jane Doe, learned the details via social media at a time when teens didn't yet understand the lasting trail of their digital breadcrumbs. Crime blogger Alexandria Goddard, along with hacker collective Anonymous, exposed the photos, Tweets, and videos, making this the first rape case ever to go viral and catapulting Steubenville onto the national stage.
Filmmaker Nancy Schwartzman spent four years embedded in the town, documenting the case and its reverberations. Ten years after the assault, Roll Red Roll is the culmination of that research, weaving in new interviews and personal reflections to take readers beyond Steubenville to examine rape culture in everything from sports to teen dynamics.
Roll Red Roll explores the factors that normalize sexual assault in our communities. Through interviews with sportswriter David Zirin, victim's rights attorney Gloria Allred and more, Schwartzman untangles the societal norms in which we too often sacrifice our daughters to protect our sons. With the Steubenville case as a flashpoint that helped spark the #MeToo movement, a decade later, Roll Red Roll focuses on the perpetrators and asks, can our society truly change?
Reviews:
"It's the grim ordinariness of the Steubenville rape case... that shines through most brightly in Nancy Schwartzman's Roll Red Roll. A meticulous account of the 'first rape case ever to go viral in the United States,' the book moves from the facts of one summer night in Rust Belt Ohio into a broader reckoning with American masculinity and the emerging influence of the internet on sexual assault cases. Schwartzman clearly conveys the brutal banality of what happened in that town, the way rape culture, victim blaming and institutional complicity are the rule rather than the exception in American communities. Steubenville could be anywhere..." —Moira Donegan, The New York Times Book Review
"Roll Red Roll is a searing account...Schwartzman's sense of outrage fuels the narrative, but never overwhelms it. This tragic cautionary tale deserves a wide audience."—Publishers Weekly (starred review)
"A scathing examination of American rape culture, promoted and abetted by athletics....A maddening, well-documented account of crime without punishment even as violence against women continues unabated." —Kirkus Reviews
"Nancy Schwartzman has given us the gift of an immersive, gripping narrative that thoughtfully explores the cultural rot behind one of the twenty-first century's most notorious cases of sexual violence (so far). Roll Red Roll documents not just a shocking episode of violence and its aftermath but a germinal moment in our recent cultural history, one that pointed the way to #MeToo. This is true crime you'll never have to apologize for loving."—Kate Harding, author of Asking for It: The Alarming Rise of Rape Culture—And What We Can Do About It
About the Contributors:
Nancy Schwartzman is a Peabody Award-nominated documentary film director and producer who uses storytelling and technology to create safer communities for women and girls. Her documentary feature debut, Roll Red Roll, was nominated for a Peabody award, premiered in 2018 at the Tribeca Film Festival, and has screened at over 40 film festivals worldwide and garnered 7 best documentary awards. It streamed in 190 countries on Netflix, PBS, and BBC. She is currently directing a Netflix original documentary feature with Reveal: Center for Investigative Reporting and Motto Pictures that will premiere in 2022. Her recent short film One Shot One Kill (2020), explored gun culture for Mother Jones, and her short film Anonymous Comes To Town (2019), co-produced with the Tribeca Film Institute and Gucci's Chime for Change, garnered over a 4.5 million views on the Guardian.
A globally recognized human rights activist, Nancy is a tech founder and created the Obama/Biden White House's award-winning mobile app Circle of 6, designed to reduce sexual violence among America's youth and college students. She has presented her work at the White House, the United Nations, TEDxSheffield, CNN, Forbes, Good Pitch, DOCNYC and at over 60 colleges and universities. She is a graduate of Columbia University and a recent transplant to Los Angeles.
Nora Zelevansky is the author of novels Competitive Grieving, Will You Won't You Want Me?, and Semi-Charmed Life. Her journalism has appeared in The New York Times, ELLE, Town & Country, the Los Angeles Times, The Wall Street Journal, and Vanity Fair among others. She lives in Brooklyn with her husband, two kids, and enormous cat, Waldo.