---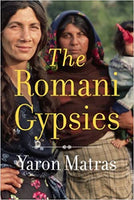 by Yaron Matras
Belknap
1/6/2015, hardcover
SKU: 9780674368385
"Gypsies" have lived among Europeans since the Middle Ages. Yet Roms still seem exotic to Westerners, who often rely on fictional depictions for what they know, or think they know, about this much-misunderstood people. The Romani Gypsies challenges stereotypes that have long been the unwelcome travel companions of this community in Europe and the New World. Yaron Matras offers a perspective-changing account of who the Roms are, how they live today, and how they have survived over centuries.
Descendants of Indian migrants, Roms began moving into western Europe in the 1300s, refugees of a collapsing Byzantine Empire. By the 1500s they had spread throughout Europe, working as itinerant smiths and toolmakers, healers and entertainers, and would soon reach the Americas. Often described as Egyptian--hence the name Gypsies--they were ostracized as beggars, vilified as criminals, respected as artisans, and idealized as free spirits. They have been both enslaved and protected, forced to settle down and forcibly expelled, in a pattern of manipulation and persecution that persists in our own time.
Matras draws on decades of first-hand research into Romani life to explain the organization of Romani society, its shared language, history, and traditions, as well as differences among widely dispersed Romani groups. He also details the present-day dilemmas surrounding the struggle of Roms for political recognition in European countries which are, by turns, either ambivalent or openly hostile.
Reviews:
A much needed book on Europe's most misunderstood population... The book aims to take stock of the Romani Gypsies today--where they might come from, their history as a people, their culture and customs, and the issues they face today... It is a story of suffering that parallels the trials of Jews in Europe. However, while the Holocaust has at the very least made Europe grapple with its history of anti-Semitism, there has been no such reckoning for the Romani... Part of the immense value of this book by Matras is that it works to paint a complex picture of who the Romani are beyond the picture of a woman begging in the street... For the information alone, the book should be required reading in Europe and for anyone interested in the continent's history .--William O'Connor "Daily Beast"
Yaron Matras has spent many years getting to know inward-looking Roma communities across Europe, winning their trust and unravelling their history, language and customs... Immaculately researched, warm and comprehensive.-- "The Guardian"
About the Author:
Yaron Matras is Professor of Linguistics at the University of Manchester and editor of the journal Romani Studies.