---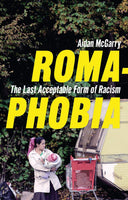 by Aidan McGarry
Zed Books
2/15/2017, paperback
SKU: 9781783603992
Based on first-hand accounts from Roma communities, Romaphobia is an examination of the discrimination faced by one of the most persecuted groups in Europe. Well-researched and informative, it shows that this discrimination has its roots in the early history of the European nation-state, and the ways in which the landless Roma have been excluded from national communities founded upon a notion of belonging to a particular territory.
Romaphobia allows us to unpick this relationship between identity and belonging, and shows the way towards the inclusion of Roma in society, providing vital insights for other marginalized communities.
Reviews:
"A compelling depiction ... This is a fascinating and provocative framework from which to view the continuing, hateful prejudice directed at Roma." -- Choice
"Enlightened, sensitively written and always positive, this book makes a valuable contribution." -- The Morning Star
"McGarry provides a valuable service in directing our attention to the forces that produce this kind of discrimination." -- Times Literary Supplement
"A timely analysis of how fear and loathing stultifies social progress. McGarry offers an excellent examination of the mechanisms of this enduring and despicable form of racism." -- Annabel Tremlett, University of Portsmouth

"The strength of McGarry's book lies in the exploration of a broader, transnational research agenda that seeks to awake Romani studies from its "splendid isolation", leaving one with the desire to learn more about the roots of Romaphobia." -- Lilla Farkas, Migration Policy Group
About the Author:
Aidan McGarry is principal lecturer in politics at the University of Brighton, and the recipient of the Rising Star Award 2014, for academic excellence. He is the author of Who Speaks for Roma? (2010) and co-editor of The Politics and Discourses of Migration in Europe (2013) and The Identity Dilemma (2015). His research has been published in leading journals such as Ethnicities, Ethnic and Migration Studies, Ethnopolitics, Social Movement Studies and Critical Social Policy, among others.