---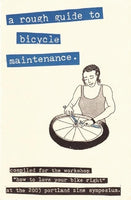 by Shelley Jackson
Microcosm Publishing
5/1/2008
SKU: 9781934620328
A hand-illustrated and accessible introduction to the world of bike repair! Through working at both Plan B Bike Project and French Quarter Bicycles in New Orleans, our co-authors have gathered a wealth of experience to share with would-be mechanics. The first half of this book is a complete repair manual to get you started on choosing, fixing, and riding your bike.
Reviews:
"It shows you in basic steps how to fix a flat, do a tune-up, general info on brake systems, and overhauling. What I think makes this most user friendly in addition to the great descriptions is the hand-drawn images of bikes, their labeled parts, and commonly used tools. It reminds me a lot of the Chainbreaker Bike Book. A great lil' zine!" --"Profane Existence"
"This is a nifty little zine compiled from a workshop titled How to love your bike right." --written after the Portland 2003 zine symposium
About the Author:
Shelly Lynn Jackson is a bike mechanic, author of the zine Chainbreaker, and coauthor of The Chainbreaker Bike Book. She lives in New Orleans, LA.