---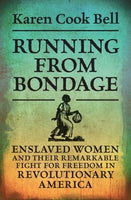 by Karen Cook Bell
Cambridge University Press
1/26/2023, paperback

SKU: 9781108926720
Running from Bondage tells the compelling stories of enslaved women, who comprised one-third of all runaways, and the ways in which they fled or attempted to flee bondage during and after the Revolutionary War.
Karen Cook Bell's enlightening and original contribution to the study of slave resistance in eighteenth-century America explores the individual and collective lives of these women and girls of diverse circumstances, while also providing details about what led them to escape. She demonstrates that there were in fact two wars being waged during the Revolutionary Era: a political revolution for independence from Great Britain and a social revolution for emancipation and equality in which Black women played an active role.
Running from Bondage broadens and complicates how we study and teach this momentous event, one that emphasizes the chances taken by these 'Black founding mothers' and the important contributions they made to the cause of liberty.
Reviews:
"Karen Cook Bell's research brilliantly shows that the phenomenon of Black female flight in the period of slavery was not idiosyncratic but was, in fact, pervasive. This path-breaking and beautifully written work centers the voices of Black women in slavery and abolition. A must-read." --Anne C. Bailey, Professor and Director of Graduate Studies, History Department, and Director of the Harriet Tubman Center for the Study of Freedom and Equity, Binghamton University
"In this new account of the American Revolution, Karen Cook Bell tells the story of how Black women flipped slavery's geography of containment upside down and redrew it as a treasure map to self-liberation. Her deep dives into fugitive sources bring back amazing stories of women who seized a time of war and disruption as the opportunity to carry themselves and their loved ones out of bondage. After Running from Bondage, no account of this period will be complete unless it shows how Black women's freedom-seeking brought about revolutionary changes." --Edward E. Baptist, Professor of History, Cornell University
"Fugitive lives matter! Through the lives and actions of fugitive enslaved women, Running from Bondage will compel the reader to consider the impact of the enslaved upon the American Revolutionary Era. Karen Cook Bell simultaneously restores women to the discussion of fugitivity while restoring both women and fugitivity to the larger narrative of slave resistance during the period." --Peter J. Breaux, Associate Professor of History, Southern University and A&M College
About the Author:
Karen Cook Bell is Associate Professor of History at Bowie State University. She is the author of Claiming Freedom: Race, Kinship, and Land in Nineteenth-Century Georgia, which won the Georgia Board of Regents Excellence in Research Award. She specializes in the studies of slavery, the Civil War and Reconstruction, and women's history.