---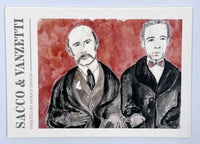 by Marius Mason
Radix Media
2022, 3.5" x 5" postcards
SKU: n/a
Marius Mason is an anarchist, environmental, and animal rights activist currently serving 22 years in federal prison for acts of property damage carried out in defense of the planet. He's been involved in activism for decades, and has worked extensively on labor issues through membership of the IWW, as well as with his involvement in the anarchist publication Fifth Estate.
Marius is also an accomplished painter! He painted this portrait of Sacco and Vanzetti as a way to remember the crimes against them by the State. Purchase of this postcard set will go towards Marius' commissary fund. Supporting political prisoners is one of the most important things we can do. Learn more about Marius at his support website.
Nicola Sacco and Bartolomeo Vanzetti were two Italian anarchists, wrongfully tried and convicted in 1920 for the armed robbery of the Slater and Morrill Shoe Company in Braintree, Massachusetts. They were executed by the electric chair seven years later. In 1977—the 50th anniversary of their execution—Massachusetts governor Michael Dukakis issued a proclamation that the two men had been unfairly tried and cleared their name.
This postcard is sized at 3.5″ x 5″ and printed digitally on 130# Classic Crest natural cover stock (100% post-consumer recycled). Comes as a set of 5 in a clear plastic sleeve. Union made.