---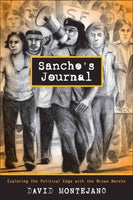 by David Montejano
University of Texas Press
2012, paperback
SKU: 9780292743847
How do people acquire political consciousness, and how does that consciousness transform their behavior?
This question launched the scholarly career of David Montejano, whose masterful explorations of the Mexican American experience produced the award-winning books Anglos and Mexicans in the Making of Texas, 1836-1986, a sweeping outline of the changing relations between the two peoples, and Quixote's Soldiers: A Local History of the Chicano Movement, 1966-1981, a concentrated look at how a social movement "from below" began to sweep away the last vestiges of the segregated social-political order in San Antonio and South Texas.
Now in Sancho's Journal, Montejano revisits the experience that set him on his scholarly quest - "hanging out" as a participant-observer with the South Side Berets of San Antonio as the chapter formed in 1974. Sancho's Journal presents a rich ethnography of daily life among the "batos locos" (crazy guys) as they joined the Brown Berets and became associated with the greater Chicano movement. Montejano describes the motivations that brought young men into the group and shows how they learned to link their individual troubles with the larger issues of social inequality and discrimination that the movement sought to redress. He also recounts his own journey as a scholar who came to realize that, before he could tell this street-level story, he had to understand the larger history of Mexican Americans and their struggle for a place in U.S. society. Sancho's Journal completes that epic story.