---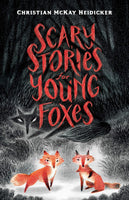 by Christian McKay Heidicker, Illustrated by Junyi Wu
Henry Holt & Company
8/31/2021, paperback

SKU: 9781250250445

Christian McKay Heidicker , author of the Thieves of Weirdwood trilogy, draws inspiration from Bram Stoker, H. P. Lovecraft and Edgar Allan Poe for his debut middle-grade novel, a thrilling portrait of survival and an unforgettable tale of friendship.
Into the finest tradition of storytelling steps Christian McKay Heidicker with these highly original, bone-chilling, and ultimately heart-warming stories. All that's needed is a blazing campfire and a delicious plate of peaches and centipedes." --Kathi Appelt, Newbery Award honoree and National Book Award finalist
The haunted season has arrived in the Antler Wood. No fox kit is safe.
When Mia and Uly are separated from their litters, they discover a dangerous world full of monsters. In order to find a den to call home, they must venture through field and forest, facing unspeakable things that dwell in the darkness: a zombie who hungers for their flesh, a witch who tries to steal their skins, a ghost who hunts them through the snow . . . and other things too scary to mention.
Featuring eight interconnected stories and sixteen hauntingly beautiful illustrations, Scary Stories for Young Foxes contains the kinds of adventures and thrills you love to listen to beside a campfire in the dark of night. Fans of Neil Gaiman, Jonathan Auxier, and R. L. Stine have found their next favorite book.
Reviews:
Clever and harrowing. -- The Wall Street Journal
A weird, creepy and thoroughly entertaining romp for readers of all ages! Highly recommended!"--Jonathan Maberry, New York Times-bestselling author of Rot & Ruin and Mars One
About the Contributors:
Christian McKay Heidicker reads and writes and drinks tea. Thanks to his demon-hunting cat, he feels completely protected from evil spirits. Christian is the author of Scary Stories for Young Foxes (a Newbery Honor book), Cure for the Common Universe and Attack of the 50 Foot Wallflower, and the co-author (with William Shivering) of Thieves of Weirdwood. He lives in Salt Lake City, Utah.