---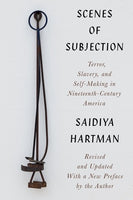 by Saidiya Hartman
W.W. Norton & Company
10/25/2022, paperback
SKU: 9781324021582
Saidiya Hartman has been praised as "one of our most brilliant contemporary thinkers" (Claudia Rankine, New York Times Book Review) and "a lodestar for a generation of students and, increasingly, for politically engaged people outside the academy" (Alexis Okeowo, The New Yorker).
In Scenes of Subjection--Hartman's first book, now revised and expanded--her singular talents and analytical framework turn away from the "terrible spectacle" and toward the forms of routine terror and quotidian violence characteristic of slavery, illuminating the intertwining of injury, subjugation, and selfhood even in abolitionist depictions of enslavement. By attending to the withheld and overlooked at the margins of the historical archive, Hartman radically reshapes our understanding of history, in a work as resonant today as it was on first publication, now for a new generation of readers.
This 25th anniversary edition features a new preface by the author, a foreword by Keeanga-Yamahtta Taylor, an afterword by Marisa J. Fuentes and Sarah Haley, notations with Cameron Rowland, and compositions by Torkwase Dyson.
Reviews:
"In Scenes of Subjection, Saidiya Hartman prepared an intellectual ground for the phrase [the afterlife of slavery] to take root. Insisting that the conventional wisdom that slavery had died with legal emancipation was wrong, and that slavery was, as she put, 'transformed rather than annulled by the 13th amendment of the US constitution, ' Hartman challenged us to consider that slavery didn't just have a lingering trace or a shadowy aftereffect in the post-emancipation moment." --Stephanie Smallwood, author of Saltwater Slavery
"Meticulously researched.... The 25th-anniversary edition of this pathbreaking work of scholarship is a gift to those interested in thinking deeply and expansively about slavery's ever-running machinations." --Omari Weekes "Vulture"
"Audacious. Original and provocative. What Hartman has to say about both slavery and its continuing resonances should be heard as widely as possible. A major scholarly contribution." -- "Nation"
About the Author:
Saidiya Hartman is the author of Wayward Lives, Beautiful Experiments and Lose Your Mother. She has been a MacArthur Fellow, Guggenheim Fellow, Cullman Fellow, and Fulbright Scholar. She is a University Professor at Columbia University and lives in New York.