---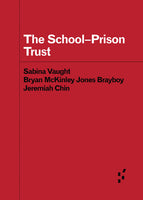 by Sabina Vaught, Bryan McKinley Jones Brayboy, and Jeremiah Chin
University of Minnesota Press
7/12/2022, paperback
SKU: 9781517914264
Considers colonial school-prison systems in relation to the self-determination of Native communities, nations, and peoples
The School-Prison Trust describes interrelated histories, ongoing ideologies, and contemporary expressions of what the authors call the "school-prison trust" a conquest strategy encompassing the boarding school and juvenile prison models, and deployed in the long war against Native peoples. At its heart, the book is a constellation of stories of Indigenous self-determination in the face of this ongoing conquest.
Following the stories of an incarcerated young man named Jakes, the authors consider features of school-prison relations for young Native people to ask urgent questions about Indigenous sovereignty, conquest, survivance, and refusal.
Part of the University of Minnesota Press "Forerunners: Ideas First" series - short books of thought-in-process scholarship, where intense analysis, questioning, and speculation take the lead.
About the Contributors:
Sabina Vaught is professor of education at the University of Pittsburgh.
Bryan McKinley Jones Brayboy (Lumbee) is President's Professor at Arizona State University.
Jeremiah Chin is assistant professor of law at St. Thomas University College of Law.