---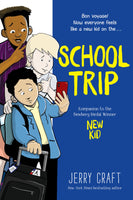 by Jerry Craft
Quill Tree Books
4/4/2023, paperback
SKU: 9780062885531
New York Times bestselling author Jerry Craft is back with the newest adventures of Jordan, Drew, Liam, and all the characters that fans first met in New Kid, winner of the Newbery Award and the Coretta Scott King Author Award! In this full-color contemporary graphic novel, the gang from Riverdale Academy Day is heading to Paris, for an international education like you've never seen before...
Jordan, Drew, Liam, Maury, and their friends from Riverdale Academy Day School are heading out on a school trip to Paris. As an aspiring artist himself, Jordan can't wait to see all the amazing art in the famous City of Lights.
But when their trusted faculty guides are replaced at the last minute, the school trip takes an unexpected--and hilarious--turn. Especially when trying to find their way around a foreign city ends up being almost as tricky as navigating the same friendships, fears, and differences that they struggle with at home.
Will Jordan and his friends embrace being exposed to a new language, unfamiliar food, and a different culture? Or will they all end up feeling like the "new kid"?
Target age: 8 to 12
Reviews:
"With his signature laugh-out-loud storytelling, which teems with nuanced character dynamics, tender moments of acceptance and connection, and a multicultural cast, Craft offers a zestful graphic novel adventure that mixes lighthearted fare with thought-provoking observations on lasting friendship in the face of future-based anxieties." -- Publishers Weekly (starred review)
"Readers will love this European escapade with characters who reflect the richness and multiculturalism of modern America. Another triumph of storytelling filled with heart and wonder." -- Kirkus Reviews (starred review)
"This heartfelt, must-read title belongs on all library shelves, as it beautifully accompanies Craft's first two graphic novels with these characters." -- School Library Journal (starred review)
"Coretta Scott King and Newbery-winning author Craft effectively uses brightly colored panels, speech bubbles, dialogue, and black-and-white sketchbook pages to portray the challenges of an overseas school trip for Black students as well as of this diverse group of students as a whole in navigating a new city and their own relationships." -- Horn Book (starred review)
About the Author:
Jerry Craft is the author-illustrator of #1 New York Times bestselling graphic novels New Kid, and its companion book, Class Act. New Kid was the first book in history to win the Newbery Medal, The Coretta Scott King Author Award, and the Kirkus Prize for Young Readers' Literature. In his latest book, School Trip, Jerry hopes to share his love of travel in order to inspire kids and their families to see the world and embrace new cultures. He received his BFA from the School of Visual Arts and now lives in Florida.