---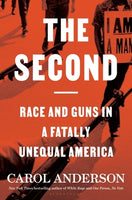 by Carol Anderson
Bloomsbury Publishing
6/1/2021, hardcover
SKU: 9781635574258
From the New York Times bestselling author of White Rage, an unflinching, critical new look at the Second Amendment--and how it has been engineered to deny the rights of African Americans since its inception.
In The Second, historian and award-winning, bestselling author of White Rage Carol Anderson powerfully illuminates the history and impact of the Second Amendment, how it was designed, and how it has consistently been constructed to keep African Americans powerless and vulnerable. The Second is neither a "pro-gun" nor an "anti-gun" book; the lens is the citizenship rights and human rights of African Americans.
From the seventeenth century, when it was encoded into law that the enslaved could not own, carry, or use a firearm whatsoever, until today, with measures to expand and curtail gun ownership aimed disproportionately at the African American population, the right to bear arms has been consistently used as a weapon to keep African Americans powerless--revealing that armed or unarmed, Blackness, it would seem, is the threat that must be neutralized and punished.
Throughout American history to the twenty-first century, regardless of the laws, court decisions, and changing political environment, the Second has consistently meant this: That the second a Black person exercises this right, the second they pick up a gun to protect themselves (or the second that they don't), their life--as surely as Philando Castile's, Tamir Rice's, Alton Sterling's--may be snatched away in that single, fatal second. Through compelling historical narrative merging into the unfolding events of today, Anderson's penetrating investigation shows that the Second Amendment is not about guns but about anti-Blackness, shedding shocking new light on another dimension of racism in America.
Reviews:
"The second amendment, as Carol Anderson deftly establishes here, was written in the blood of enslaved black people. Our stalemated gun rights debates have focused on the idea that the second amendment preserves liberty rather than its historic role in denying it. This book does a great deal to change the parameters of that conversation." -Jelani Cobb, New Yorker staff writer, author of The Substance of Hope
"In this extraordinarily important book, Dr. Anderson shows that the Second Amendment was designed, and has always been implemented, to enable white Americans to dominate their Black neighbors. In her trademark engaging and unflinching prose, Dr. Anderson traces America's racist history of gun laws from the 1639 Virginia colony's prohibition on Africans carrying guns to the recent police murders of Breonna Taylor and Emantic Bradford, Jr., showing how calls for 'law and order' have concentrated guns in the hands of white people while defining Black gun ownership as a threat to society. Anderson's deft scholarship convincingly places the right to use force at the center of American citizenship, and warns that the Second Amendment, as it is currently exercised, guarantees that Black Americans will never be equal." -Heather Cox Richardson, author of How the South Won the Civil War

"Carol Anderson brings her brilliant analytical framing to one of our most pressing issues: the proliferation of guns and the epidemic of American gun violence. She reveals the racial hypocrisy inherent in Second Amendment defenses of gun rights. The Second is a must-read for students of American History." -Natasha Trethewey, Pulitzer Prize-winning poet, former U.S. Poet Laureate, author of Memorial Drive

"Carol Anderson brings her storied sense of the intertwining of past and present, her keen insights into the wiles of racism, and her passionate prose to this extraordinary take on the meaning of the Second Amendment. This is a necessary history of the roots of gun obsession in slavery, racial assumptions, legal and political fictions that may have put America on a 'fatal' spiral we can only hope to prevent. Let's dream that this book echoes across the partisan canyon." -David W. Blight, Yale University, author of the Pulitzer Prize-winning Frederick Douglass: Prophet of Freedom
About the author:
Carol Anderson is the Charles Howard Candler Professor and Chair of African American Studies at Emory University. She is the author of One Person, No Vote, longlisted for the National Book Award and a finalist for the PEN/John Kenneth Galbraith Award; White Rage, a New York Times bestseller and winner of the National Book Critics Circle Award; Bourgeois Radicals; and Eyes off the Prize. She was named a Guggenheim Fellow for Constitutional Studies and is a member of the American Academy of Arts and Sciences. She lives in Atlanta, Georgia.