---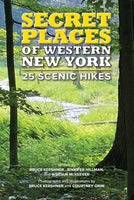 by Bruce Kershner, Jennifer Hillman, and William McKeever
Reedy Press
4/1/2022, paperback
SKU: 9781681063683
Discover secret and scenic day hikes within a day's drive of Buffalo and Niagara Falls. Secret Places of Western New York: 25 Scenic Hikes is more than a trail guide. Hidden in these pages, you'll uncover what makes these hikes special enough to be a Secret Place. Both lifetime locals and visitors to the region will be guided to the best paths and trails throughout the Niagara, Buffalo, Rochester, and Southern Tier regions. Hike to grottos where the only sound is the trickle of water, crawl through hidden caves, commune with nature in ancient forests, stumble upon tucked away treasures like lonely graves, splash on secluded beaches and creeks, admire towering waterfalls, and if you dare, step under the cascade yourself. Find historical carvings on rocks and trees that many walk past but never see, and be awestruck when ice volcanoes erupt on the shores of Lake Erie. These outdoor adventures appeal to a range of abilities, with most hikes accessible for the whole family. Co-authors Jennifer Hillman and William McKeever have teamed up with Bruce Kershner's literary estate to encourage the next generation of explorers to discover 25 compelling secret and not-so-secret scenic day hikes within Western New York. Go take a hike!

About the Author:
Bruce Kershner (4/17/50-2/16/07) was a naturalist, ecologist, educator, and author. He authored dozens of books, most notably Secret Places: Scenic Treasures of Western New York and Southern Ontario. Bruce was named "Environmentalist of the Year" by the Sierra Club, the Adirondack Mountain Club, and New York State. 
Jennifer Hillman is an outdoor enthusiast and nature hiking writer. She is a seasoned marketing professional in content, campaigns, communications, and social media. You can often find Jennifer and Bill in the woods behind their home on Eighteen Mile Creek in Hamburg, New York.
William McKeever is the former executive director of the Buffalo Audubon Society and worked with Bruce on environmental advocacy projects protecting the old-growth forests of DeVeaux Woods, Zoar Valley, and Allegany State Park.