---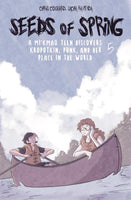 by Christopher Coquard and Sacha Ravenda
Microcosm
7/11/2023, booklet
SKU: 9781648413186
A despondent Mandy joins Naguset's family on a fishing trip in Newfoundland; along the way, they visit an aunt who catches them up on the local turmoil around fishing rights. Meanwhile, Peter grows a beard and travels by train to Siberia, witnessing domestic violence and political corruption along the way. His first assignment is to investigate prisons and recommend reforms, but officials--and a shipwreck--stand in his way. In this innovative serial graphic novel, Naguset, a modern Canadian Mi'kmaq teenager, exchanges books and mix tapes with her pen pal, Chris. Her imagination sparks when he sends her a biography of the 19th century Russian anarchist Peter Kropotkin. The story juxtaposes Naguset's personal and political coming-of-age in her loving family home with Kropotkin's rocky upbringing in a princely palace. These two stories of eventful lives and bold hearts are interwoven with Kropotkin's theories of freedom, Mi'kmaq vocabulary and social history, and an uplifting punk soundtrack, creating a unique reading experience bound to inspire readers to think in new ways about the issues of our time.
About the Authors:
Chris Coquard is an English professor and world traveller currently living in Québec City. In his free time he is busy with many Peter Kropotkin projects, including organizing events and publishing several new writings in English for the first time. Additionally, he has also been working closely with Mi'kmaq linguists in Québec and the Maritime provinces in Canada on several language and culture-related projects.
Sacha Ravenda is a comic artist, illustrator, writer and compulsive sketcher, based in Gatineau, Québec. Sacha has been publishing print comics for three years with a few Montréal based editors and magazines, and also has created 2d art, character design and concept art for various projects such as tabletop games and mobile games.