---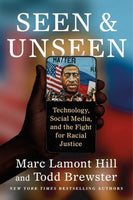 by Marc Lamont Hill and Todd Brewster
Atria Books
5/3/2022, hardcover
SKU: 9781982180393
A riveting exploration of how the power of visual media over the last few years has shifted the narrative on race and reignited the push towards justice by the author of the "worthy and necessary" (The New York Times) Nobody, Marc Lamont Hill and bestselling author and acclaimed journalist Todd Brewster.

With his signature "clear and courageous" (Cornel West) voice Marc Lamont Hill and New York Times bestselling author Todd Brewster weave four recent pivotal moments in America's racial divide into their disturbing historical context—starting with the killing of George Floyd—Seen and Unseen reveals the connections between our current news headlines and social media feeds and the country's long struggle against racism.
For most of American history, our media has reinforced and promoted racism. But with the immediacy of modern technology—the ubiquity of smartphones, social media, and the internet—that long history is now in flux. From the teenager who caught George Floyd's killing on camera to the citizens who held prosecutors accountable for properly investigating the killing of Ahmaud Arbery, ordinary people are now able to reveal injustice in a more immediate way. As broad movements to overhaul policing, housing, and schooling gain new vitality, Seen and Unseen demonstrates that change starts with the raw evidence of those recording history on the front lines.
In the vein of The New Jim Crow and Caste, Seen and Unseen incisively explores what connects our moment to the history of race in America but also what makes today different from the civil rights movements of the past and what it will ultimately take to push social justice forward.
About the Authors:
Marc Lamont Hill is currently the host of BET News and Black News Tonight and is the Steve Charles Chair in Media, Cities, and Solutions at Temple University. He is the founder and director of the People's Education Center and the owner of Uncle Bobbie's Coffee & Books in Philadelphia. He has authored or coauthored several books, including Except for Palestine, Nobody, and We Still Here.
Todd Brewster is a veteran journalist and historian who has worked as an editor for Time and Life and as a senior producer for ABC News. He is the coauthor, with Peter Jennings, of the #1 New York Times bestselling book, The Century, which spent nearly a year on the bestseller list, and the author of the acclaimed Lincoln's Gamble. Brewster was the founding director of Center for Oral History at West Point and the executive producer of Into Harm's Way, an award-winning documentary about the West Point Class of 1967. He has taught journalism at Temple University and Mount Holyoke College. A native of Indianapolis, Brewster was inducted into the Indiana Journalism Hall of Fame in 2000. He lives in Connecticut.