---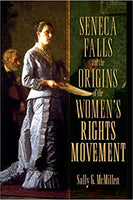 by Sally McMillen
Oxford University Press (USA)
9/8/2009, paperback
SKU: 9780195393330
In the quiet town of Seneca Falls, New York, over the course of two days in July, 1848, a small group of women and men, led by Elizabeth Cady Stanton and Lucretia Mott, held a convention that would launch the women's rights movement and change the course of history. In Seneca Falls and the Origins of the Women's Rights Movement, Sally McMillen reveals, for the first time, the full significance of that revolutionary convention and the enormous changes it produced. The book covers 50 years of women's activism, from 1840 to 1890, focusing on four extraordinary figures--Mott, Stanton, Lucy Stone, and Susan B. Anthony. McMillen tells the stories of their lives, how they came to take up the cause of women's rights, the astonishing advances they made during their lifetimes, and the far-reaching effects of the work they did. At the convention they asserted full equality with men, argued for greater legal rights, greater professional and education opportunities, and the right to vote--ideas considered wildly radical at the time. Indeed, looking back at the convention two years later, Anthony called it "the grandest and greatest reform of all time."
Reviews:
"McMillen clearly articulates 50 years of critical women's political activism.... If for no other reason, that discussion of the relationship between race and gender struggles makes this work particularly timely in the 2008 election season."-- Bust
"McMillen tells the story of the woman's rights movement quite well, and her book adds to our understanding of the woman's rights movement."--Sherry H. Penney, The Journal of American History
About the Author:
Sally McMillen is the Mary Reynolds Babcock Professor of History and Department Chair at Davidson College. She is the author of Motherhood in the Old South and Southern Women: Black and White in the Old South. She lives in Davidson, North Carolina.