---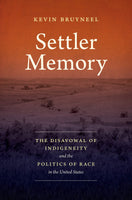 by Kevin Bruyneel
University of North Carolina Press
11/8/2021, paperback
SKU: 9781469665238
Faint traces of Indigenous people and their histories abound in American media, memory, and myths. Indigeneity often remains absent or invisible, however, especially in contemporary political and intellectual discourse about white supremacy, anti-Blackness, and racism in general. In this ambitious new book, Kevin Bruyneel confronts the chronic displacement of Indigeneity in the politics and discourse around race in American political theory and culture, arguing that the ongoing influence of settler-colonialism has undermined efforts to understand Indigenous politics while also hindering conversation around race itself. By reexamining major episodes, texts, writers, and memories of the political past from the seventeenth century to the present, Bruyneel reveals the power of settler memory at work in the persistent disavowal of Indigeneity. He also shows how Indigenous and Black intellectuals have understood ties between racism and white settler memory, even as the settler dimensions of whiteness are frequently erased in our discourse about race, whether in conflicts over Indian mascotry or the white nationalist underpinnings of Trumpism.
Envisioning a new political future, Bruyneel challenges readers to refuse settler memory and consider a third reconstruction that can meaningfully link antiracism and anticolonialism.
Reviews:
"Bruyneel's exciting, evocative, and deeply insightful book reveals the significance of settler memory within all aspects of U.S. life. It is destined to become required reading across a range of disciplines." --Mark Rifkin, author of Settler Common Sense
"Kevin Bruyneel's pathbreaking, indispensable book exposes the persistence of settler memory and lays out a path to resist it. The lessons are clear: there can be no freedom under the settler state, no justice without returning the land, no liberation without Indigenous sovereignty, no future without decolonization." --Robin D. G. Kelley, author of Freedom Dreams: The Black Radical Imagination
About the Author:
Kevin Bruyneel is professor of politics at Babson College.