---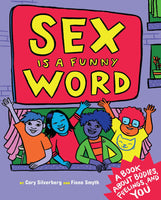 by Cory Silverberg, Illustrated by Fiona Smyth
Triangle Square
07/28/2015, hardcover
SKU: 9781609806064
A comic book for kids that includes children and families of all makeups, orientations, and gender identities, Sex Is a Funny Word is an essential resource about bodies, gender, and sexuality for children ages 8 to 10 as well as their parents and caregivers. Much more than the facts of life or "the birds and the bees, Sex Is a Funny Word opens up conversations between young people and their caregivers in a way that allows adults to convey their values and beliefs while providing information about boundaries, safety, and joy.
The eagerly anticipated follow up to Lambda-nominated What Makes a Baby, from sex educator Cory Silverberg and artist Fiona Smyth, Sex Is a Funny Word reimagines sex talk for the twenty-first century.
Target age: 7 to 10
Reviews:
"Sex Is a Funny Word is a book that brilliantly reminds us of our shared humanity. Whether you are LGBTQIA or any other letter in the alphabet (including 'U' for undecided), this book contains everything you ever wanted the kids in your life to know about sex." -- James Lecesne, co-founder, The Trevor Project
"I read Sex Is a Funny Word with my 10 year old daughter who immediately got it! She saw herself, family, and friends in the characters. It's an amazing resource and makes what could be a difficult conversation, quite easy. I wish I had this book as a child." -- Aiesha Turman, Founder and Executive Director, The Black Girl Project
"Yes, it's written for 7-to-10-year-olds. But I'd like to see it on the required reading list for high school freshmen, college resident advisors, military personnel, early-childhood educators, coaches, clergy, police officers, pediatricians and parents. Did I miss anyone?... the story begins not with body parts but with values: Respect. Trust. Joy. Justice. 'Justice is like fairness, only bigger,' Silverberg explains. 'Justice means that every person and every body matters.' Could we have that etched over every middle-school entry door, please? And while the chisel's still warm, put it on the nation's courtrooms, too." -- Anndee Hochman, Broad Street Review
About the Contributors:
Cory Silverberg was raised by a children's librarian and a sex therapist and split the difference, growing up to be a sexuality educator and writer. With an academic background in education and counseling psychology, he has developed and facilitated workshops for hundreds of agencies across North America, working on a range of topics including sexuality and disability, sexual pleasure, and sexual communication. He is the coauthor of The Ultimate Guide to Sex and Disability, and since 2005 he has worked as the Sexuality Guide for About.com. In 2012, Silverberg developed a book project -- What Makes a Baby? -- that became the best-funded children's book on Kickstarter. He subsequently signed a three-book deal with Seven Stories Press to produce a series of inclusive children's books about gender and sexuality. Silverberg lives in New York City.
Fiona Smyth is a Toronto-based painter, illustrator, and cartoonist. Her first graphic novel, The Never Weres, was published by Annick Press in 2011. Fiona's comic Cheez was published in Exclaim! magazine for almost ten years, and her comic Fazooz was in Vice for eight years. Fiona teaches illustration and comics at OCAD U in Toronto.