---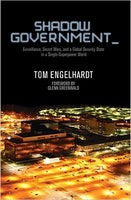 by Tom Engelhardt
Haymarket Books
2014, paperback
SKU: 9781608463657
In 1964, a book entitled The Invisible Government shocked Americans with its revelations of a growing world of intelligence agencies playing fast and loose around the planet, a secret government lodged inside the one they knew that even the president didn't fully control. Almost half a century later, everything about that "invisible government" has grown vastly larger, more disturbing, and far more visible. In his new book, Tom Engelhardt takes in something new under the sun: what is no longer, as in the 1960s, a national security state, but a global security one, fighting secret wars that have turned the president into an assassin-in-chief. Shadow Government offers a powerful survey of a democracy of the wealthy that your grandparents wouldn't have recognized.
With a forward by Glenn Greenwald.
Reviews:
"Tom Engelhardt is an iconoclast, but he also is the latest exemplar of a great American tradition. Like George Seldes and I. F. Stone before him, he has bypassed conventionally minded newspapers and magazines, and with his remarkable website and in books like this, found a way of addressing readers directly about the issues central to our time. Again and again, he goes to the heart of the matter, drawing on his awesomely wide reading, his knowledge of history, and his acute political radar system that uncovers small but deeply revealing nuggets of news and often makes me feel, enviously: how could I have missed that?" - Adam Hochschild, author, King Leopold's Ghost: A Story of Greed, Terror and Heroism in Colonial Africa

"This is a book about secrets and surveillance, but I'm here to tell you one secret its contents won't. For more than a dozen years, Tom Engelhardt and his website or blog or postnewspaper wire service Tomdispatch.com have been one of the great forces on the side of clarity, democracy, openness, and really good writing. Tom himself, a legendary book editor, is also one of the country's most eloquent and tenacious political writers, electronically publishing three essays a week for all these years and writing many of them himself. This collection, focused on the new Orwellianism, is some of the finest writing and finest public service gathered together in book form for your portable pleasure and outrage." - Rebecca Solnit, author, Men Explain Things to Me
About the Contributors:
Tom Engelhardt created and runs the TomDispatch.com website, a project of the Nation Institute, where he is a fellow. He is the author of The American Way of War and The United States of Fear, both published by Haymarket Books; a highly praised history of American triumphalism in the cold war, The End of Victory Culture; and of a novel, The Last Days of Publishing. He lives in New York.
Glenn Greenwald is a columnist on civil liberties and US national security issues for "The Intercept" and the author, most recently, of No Place to Hide: Edward Snowden, the NSA, and the U.S. Surveillance State.