---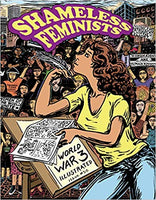 Edited by Isabella Bannerman, Sabrina Jones and Rebecca Migdal, epilogue by Susan Simensky Bietila
World War 3 Illustrated
12/10/2019, paperback
SKU: 9781849353694
By shedding their shame and telling their stories, the contributors to this World War 3 Illustrated volume expose the contradictions of the of the Trump/#MeToo era. In comics that fuse personal testimony with political savvy on topics from healthcare, harassment, childbirth, and assault to everyday sexism, women--from grandmothers to art students--break glass ceilings and pick the shards from their eyes. WW3 veterans are joined by new and international talent in a collection full of outrage, humor, and resistance.
Authors:
Isabella Bannerman started out painting backdrops and props for Pee Wee's Playhouse. She continued working in the field of animation, directing station identification spots for MTV, and working on the TV show Doug. Her cartoons have been in many publications, including Glamour, New York Times, The Funny Times, and World War 3 Illustrated. Isabella has been writing and drawing the Monday comic for the internationally syndicated comic strip Six Chix since 2000.
Susan Simensky Bietila has been an artist and activist since the 1960s. She did artwork for The Guardian--the radical newsweekly during the Vietnam war--and the 2nd Wave Feminist underground newspaper Rat and has continued to do art and activism ever since. She has been active against mining in Wisconsin and in support of Public Education. Presently she is creating art for C.A.R.S.(Citizens Acting for Rail Safety) Milwaukee.
Sabrina Jones is a comic book artist, writer, and editor who began her career with activist art collective Carnival Knowledge and alternative comics World War 3 Illustrated and Girltalk. Her books Race to Incarcerate: A Graphic Retelling and Isadora Duncan: A Graphic Biography were named "Great Graphic Novels" by the Young Adult Library Services Association. She lives in New York City.
Rebecca Migdal is an author and an interdisciplinary artist working in new and traditional media. She has worked as a filmmaker, designer, teacher and performer, and is currently writing her second novel. She is the creator of the graphic novel Zombie Punk (Mythoprint Publishing, 2015).