---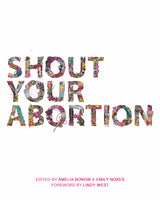 Edited by Amelia Bonow and Emily Nokes
PM Press
11/1/2018, paperback
SKU: 9781629635736
Following the U.S. Congress's attempts to defund Planned Parenthood, the hashtag #ShoutYourAbortion became a viral conduit for abortion storytelling, receiving extensive media coverage and positioning real human experiences at the center of America's abortion debate for the first time. This online momentum quickly launched a grassroots movement, inspiring countless individuals to share their stories in art, media, and community events.
Shout Your Abortion is a collection of photos, essays, and creative work inspired by the movement of the same name, a template for building new communities of healing, and a call to action. This book sheds light on the individuals who breathed life into this movement, illustrating the profound political power of defying shame and claiming sole authorship of our experiences.
Reviews:
"The new book is poised to be a vital tool for person-to-person connection and part of the broader work for culture-wide change." --Katie Klabusich, Rewire
"For decades, taking down Planned Parenthood has been a pet project of America's anti-choice legislators. In 2015, after Congressional Republicans failed in their attempt to defund the nation's largest women's-healthcare provider, Seattle activist Amelia Bonow posted on Facebook that she wanted to hear women refuse to be ashamed of their abortions. Less than two weeks later, Bonow's friend Lindy West created the Twitter hashtag #ShoutYourAbortion, and within days more than 150,000 tweets used the hashtag just as Bonow had hoped. Three years later, as the Trump administration sets its sights on repealing Roe v. Wade, talking about abortion without shame is more vital than ever, and Shout Your Abortion, a collection of 43 personal accounts curated by Bonow, feels timely and crucial. -- Bitch Magazine

About the Contributors:
Amelia Bonow has developed Shout Your Abortion (SYA) into a nationwide movement to create places for people to discuss their abortions online, in art and media, and in public events. Bonow's writing has appeared in BUST, the Huffington Post, the New York Daily News, Salon, and the Stranger.
Emily Nokes is a musician, writer, graphic designer, and illustrator. Her work has appeared in the Stranger and she now serves as the music editor at BUST .
Lindy West is a contributing opinion writer for the New York Times. Her work has also appeared in This American Life, the Guardian, Cosmopolitan, and elsewhere. She cofounded #ShoutYourAbortion and authored Shrill: Notes from a Loud Woman.