---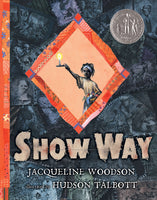 by Jacqueline Woodson, Illustrated by Hudson Talbott
G.P. Putnam's Sons Books for Young Readers
9/8/2005, hardcover
SKU: 9780399237492
Soonie's great-grandma was just seven years old when she was sold to a big plantation without her ma and pa, and with only some fabric and needles to call her own. She pieced together bright patches with names like North Star and Crossroads, patches with secret meanings made into quilts called Show Ways -- maps for slaves to follow to freedom. When she grew up and had a little girl, she passed on this knowledge. And generations later, Soonie -- who was born free -- taught her own daughter how to sew beautiful quilts to be sold at market and how to read.
From slavery to freedom, through segregation, freedom marches and the fight for literacy, the tradition they called Show Way has been passed down by the women in Jacqueline Woodson's family as a way to remember the past and celebrate the possibilities of the future. Beautifully rendered in Hudson Talbott's luminous art, this moving, lyrical account pays tribute to women whose strength and knowledge illuminate their daughters' lives.
Target age: 4 to 8
Reviews:
"Show Way is a sophisticated book that introduces readers to the passage of time, family traditions, and the significance of quilts and their patterns in African-American history. The gorgeous, multimedia art includes chalk, watercolors, and muslin. An outstanding tribute, perfectly executed in terms of text, design, and illustration." --School Library Journal, starred review
"One of the most remarkable books of the year." --Kirkus Reviews, starred review
"Will move many readers to explore their own family roots."--Booklist, starred review
About the Contributors:
Born on February 12th in Columbus, Ohio, Jacqueline Woodson grew up in Greenville, South Carolina, and Brooklyn, New York and graduated from college with a B.A. in English. She now writes full-time and has recently received the Margaret A. Edwards Award for lifetime achievement in writing for young adults. Her other awards include a Newbery Honor, two Coretta Scott King awards, two National Book Award finalists, and the "Los Angeles Times" Book Prize. Although she spends most of her time writing, Woodson also enjoys reading the works of emerging writers and encouraging young people to write, spending time with her friends and her family, and sewing. Jacqueline Woodson currently resides in Brooklyn, New York.
Hudson Talbott was born and raised in Louisville, Kentucky, the youngest of four children. From the time he could pick up a pencil, he has been interested in drawing and creative expression, and he considers himself extremely fortunate to have had family and teachers who encouraged his talents.