---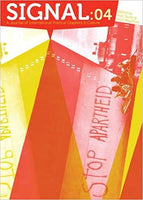 Edited by Alex Dunn and Josh MacPhee
PM Press
6/1/2015, paperback
SKU: 9781629631066
Signal is an ongoing book series dedicated to documenting and sharing compelling graphics, art projects, and cultural movements of international resistance and liberation struggles. Readers will be inspired by not only fine and graphic arts but also political posters, comics, zines, murals, street art, art collectives, documentation of performances, and articles on the often-overlooked but essential roles all of these have played in struggles around the world. Highlights of the fourth volume of Signal include Lincoln Cushing's discussion of the Bay Area Peace Navy's large-scale visual interventions; Tennessee Watson's project made in response to the violence in Juárez; New Zealand's Kotare Trust Poster Archive; the early years of West Germany's militant counterculture; an interview with Max Karl Winkler, book cover designer for Three Continents Press; and the history of Toronto's Punchclock Print Collective.
See the entire collection here.
About the Contributors:
Alec Dunn is an illustrator and a printer who has designed book and record covers, political graphics, and punk fliers. His work can be seen at www.blackoutprint.com. He lives in Portland, Oregon.
Josh MacPhee is an artist and an activist whose work focuses on social movements, history, and public space. He is the author of Paper Politics: Socially Engaged Printmaking Today, Realizing the Impossible: Art Against Authority, and Reproduce and Revolt. He lives in Brooklyn, New York.