---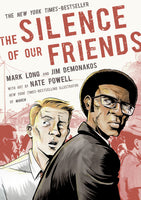 by Mark Long and Jim Demonakos, Illustrated by Nate Powell
Square Fish
1/2/2018, paperback
SKU: 9781250164988
A New York Times-bestselling graphic novel based on the true story of two families--one white and one black--who find common ground as the civil rights struggle heats up in Texas.
This semi-autobiographical tale is set in 1967. A white family from a notoriously racist neighborhood in the suburbs and a black family from its poorest ward cross Houston's color line, overcoming humiliation, degradation, and violence to win the freedom of five black college students unjustly charged with the murder of a policeman.
The Silence of Our Friends follows events through the point of view of young Mark Long, whose father is a reporter covering the story. Semi-fictionalized, this story has its roots solidly in very real events. With art from the brilliant Nate Powell ( Swallow Me Whole) bringing the tale to heart-wrenching life, The Silence of Our Friends is a new and important entry in the body of civil rights literature.
Reviews:
A moving evocation of a tipping point in our country's regrettable history of race relations, Long and Demonakos's story flows perfectly in Eisner and Ignatz Award winner Powell's graceful and vivid yet unpretty black-and-gray wash. -- School Library Journal
...an engrossing narrative about race in America, while honestly dealing with a host of other real-world issues, including familial relationships, friendship, dependency, other-ness, and perhaps most importantly, the search for common ground. -- Publishers Weekly
About the Contributors:
Mark Long is a video game designer and producer living in Seattle. The Silence of Our Friends is based on Long's childhood experiences with the civil rights movement in suburban Houston, Texas.
Jim Demonakos founded Seattle's annual Emerald City Comicon, as well as The Comic Stop chain of retail stores. He has written, edited, and promoted a variety of books for different publishers throughout his career. He lives in the Seattle area.
Nate Powell is an Arkansas native and Eisner Award-winning cartoonist whose works include Swallow Me Whole (an LA Times Book Prize finalist), Any Empire, and (with co-authors Congressman John Lewis and Andrew Aydin) the March trilogy, the final volume of which won the National Book Award for Young People's Literature. Powell is the first cartoonist to receive this honor. He lives in Bloomington, Indiana.