---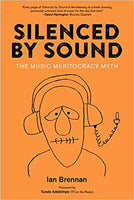 by Ian Brennan, foreword by Tunde Adebimpe
PM Press
9/16/2019, paperback
SKU: 9781629637037
Popular culture has woven itself into the social fabric of our lives, penetrating people's homes and haunting their psyches through images and earworms. Justice, at most levels, is something the average citizen may have little influence upon, leaving us feeling helpless and complacent. But pop music is a neglected arena where concrete change can occur--by exercising active and thoughtful choices to reject the low-hanging, omnipresent corporate fruit, we begin to rebalance the world, one engaged listener at a time. In Silenced by Sound, Ian Brennan delves into his personal story to address the inequity of distribution in the arts and demonstrates that there are millions of talented people around the world more gifted than the superstars for whom billions of dollars are spent to promote the delusion that they have been blessed with unique genius.
Silenced by Sound is defined by muscular, terse, and poetic verse, and a nonlinear format rife with how-to tips and anecdotes. The narrative is driven by the author's ongoing field-recording chronicles, his memoir-like reveries, and the striking photographs that accompany these projects. After reading it, you'll never hear quite the same again.

Reviews:
"Shocking! I didn't think it was possible to write a shocking book about music anymore. This is the most radical music book I've read in years." —John Waters
"There is hope. Thanks to Ian Brennan for shining a light." —Bill Frisell
"Every page of Silenced by Sound is like listening to a fresh, bracing, previously unknown kind of music for the very first time." —David Harrington, Kronos Quartet
"Brennan presents a hefty, bracing tome . . ." —Booklist
". . . full of wisdom from someone who cares deeply about the power of real music." —MOJO
Author:
Ian Brennan is a Grammy-winning music producer and the author of four books. He has worked with the likes of John Waters, Merle Haggard, and Green Day, among others. His work has been featured on the front page of the New York Times and on an Emmy-winning 60 Minutes segment.
Tunde Adebimpe is an American musician, actor, director, and visual artist best known as the lead singer of the Brooklyn-based band TV on the Radio.