---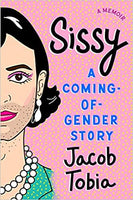 by Jacob Tobia
G.P. Putnam's Sons
3/3/2020, paperback

SKU: 9780735218840
A heart-wrenching, eye-opening, and giggle-inducing memoir about what it's like to grow up not sure if you're (a) a boy, (b) a girl, (c) something in between, or (d) all of the above.
As a young child in North Carolina, Jacob Tobia wasn't the wrong gender, they just had too much of the stuff. Barbies? Yes. Playing with bugs? Absolutely. Getting muddy? Please. Princess dresses? You betcha. Jacob wanted it all, but because they were "a boy," they were told they could only have the masculine half. Acting feminine labelled them "a sissy" and brought social isolation.
It took Jacob years to discover that being "a sissy" isn't something to be ashamed of. It's a source of pride. Following Jacob through bullying and beauty contests, from Duke University to the United Nations to the podiums of the Methodist church--not to mention the parlors of the White House--this unforgettable memoir contains multitudes. A deeply personal story of trauma and healing, a powerful reflection on gender and self-acceptance, and a hilarious guidebook for wearing tacky clip-on earrings in today's world, Sissy guarantees you'll never think about gender--both other people's and your own--the same way again.
Reviews:
"[Tobia] combines incisive wit and undeniable intelligence to invite readers into their personal journey as a gender-nonconforming young person in North Carolina. . . It is in Tobia's often self-deprecating humor that Sissy is most transformative, and where it most departs from other trans memoirs. The seriousness of the topic never feels glossed over, which allows for an organic and seamless journey from tears on one page to laughing aloud on the next. If Tobia aspires to the ranks of comic memoirists like David Sedaris and Mindy Kaling, Sissy succeeds." --New York Times Book Review
"When the political reality facing this country seems dark, we need shinier, sparklier thinkers in the public eye. With a signature style matched only by their wit, Jacob fits that bill perfectly." --Alan Cumming
" Sissy bravely moves the needle forward, boldly advocating for a world where people of all genders are treated equally and with dignity. A story of audacity and courage, Sissy is not to be missed." --Billie Jean King
About the Author:
Jacob Tobia (pronouns: they/them) is a gender nonconforming writer, producer, and performer based in Los Angeles. A member of the Forbes 30 Under 30 and the OUT 100, Jacob made television history voicing the nonbinary character of Double Trouble in Netflix's She-Ra and The Princess of Power. Their writing and advocacy have been featured by T he New York Times, Time, The Guardian, Good Morning America, and The Daily Show with Trevor Noah, among others. Originally from Raleigh, North Carolina, Jacob has worn high heels in the White House twice. Sissy is their debut memoir.