---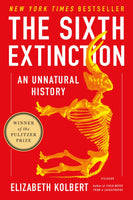 by Elizabeth Kolbert
Picador
1/6/2015
SKU: 9781250062185
A major book about the future of the world, blending intellectual and natural history and field reporting into a powerful account of the mass extinction unfolding before our eyes.
Over the last half-billion years, there have been Five mass extinctions, when the diversity of life on earth suddenly and dramatically contracted. Scientists around the world are currently monitoring the sixth extinction, predicted to be the most devastating extinction event since the asteroid impact that wiped out the dinosaurs. This time around, the cataclysm is us.
In prose that is at once frank, entertaining, and deeply informed, New Yorker writer Elizabeth Kolbert tells us why and how human beings have altered life on the planet in a way no species has before. Interweaving research in half a dozen disciplines, descriptions of the fascinating species that have already been lost, and the history of extinction as a concept, Kolbert provides a moving and comprehensive account of the disappearances occurring before our very eyes. She shows that the sixth extinction is likely to be mankind's most lasting legacy, compelling us to rethink the fundamental question of what it means to be human.
Reviews:
"With her usual lucid and lovely prose, Elizabeth Kolbert lays out the sad and gripping facts of our moment on earth: that we've become a geological force, driving vast swaths of creation over the brink. A remarkable addition to the literature of our haunted epoch." -- Bill McKibben, author of Oil and Honey: The Education of an Unlikely Activist
"An epic, riveting story of our species that reads like a scientific thriller--only more terrifying because it is real. Like Rachel Carson's Silent Spring, Elizabeth Kolbert's The Sixth Extinction is destined to become one of the most important and defining books of our time." -- David Grann, author of The Lost City of Z
"The sixth mass extinction is the biggest story on Earth, period, and Elizabeth Kolbert tells it with imagination, rigor, deep reporting, and a capacious curiosity about all the wondrous creatures and ecosystems that exist, or have existed, on our planet. The result is an important book full of love and loss." -- David Quammen, author of The Song of the Dodo and Spillover
"Elizabeth Kolbert writes with an aching beauty of the impact of our species on all the other forms of life known in this cold universe. The perspective is at once awe-inspiring, humbling and deeply necessary." -- T.C. Boyle, author of San Miguel
About the Author:
Elizabeth Kolbert is a staff writer at The New Yorker. She is the author of Field Notes from a Catastrophe: Man, Nature, and Climate Change. She lives in Williamstown, Massachusetts, with her husband and children.