---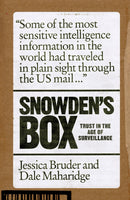 by Jessuca Bruder and Dale Maharidge
Verso Books
02/23/2021, paperback
SKU: 9781788733441
Two behind-the-scenes players in the Edward Snowden story reflect on the meaning of Snowden's revelations in our age of surveillance.
One day in the spring of 2013, a box appeared outside a fourth-floor apartment door in Brooklyn, New York. The recipient, who didn't know the sender, only knew she was supposed to bring this box to a friend, who would ferry it to another friend. This was Edward Snowden's box -- materials proving that the U.S. government had built a massive surveillance apparatus and used it to spy on its own people -- and the friend on the end of this chain was filmmaker Laura Poitras.
Thus the biggest national security leak of the digital era was launched via a remarkably analog network, the US Postal Service. This is just one of the odd, ironic details that emerges from the story of how Jessica Bruder and Dale Maharidge, two experienced journalists but security novices (and the friends who received and ferried the box) got drawn into the Snowden story as behind-the-scenes players. Their initially stumbling, increasingly paranoid, and sometimes comic efforts to help bring Snowden's leaks to light, and ultimately, to understand their significance, unfold in an engrossing narrative that includes emails and diary entries from Poitras. This is an illuminating story on the status of transparency, privacy, and trust in the age of surveillance.
With an appendix suggesting what citizens and activists can do to protect privacy and democracy.
Reviews:
"An engaging window into the scrappy human effort behind the Snowden revelations, Bruder and Maharidge's book also manages to provide some of the speculation, context, and -- perhaps best of all -- practical advice, that Snowden's book and Poitras's film will have made readers yearn for." -- Jonathan Lethem
"I've read virtually all of the books about the Snowden leaks, but this one stands apart... A beautifully written, gripping new book." -- Cory Doctorow, author of Radicalized and Attack Surface
About the Authors:

Jessica Bruder is the author of Burning Book and Nomadland, which was named a New York Times Notable Book and Editors' Choice and a finalist for the J. Anthony Lukas Prize and the Helen Bernstein Book Award. The 2020 movie based on the book, starring Frances McDormand, received widespread acclaim. She teaches at Columbia Journalism School and contributes to The New York Times, New York, Harper's, The Washington Post, The Guardian, and other outlets. She lives in Brooklyn.
Dale Maharidge is the author of ten books, including, most recently, Bringing Mulligan Home: The Other Side of the Good War. He won the Pulitzer Prize in 1990, has been a Nieman Fellow at Harvard and held residencies at Yaddo and MacDowell colonies. He teaches at Columbia Journalisn School and lives in New York and Northern California.