---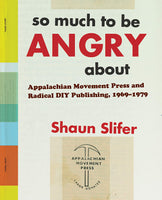 by Shaun Slifer
West Virginia University Press
3/31/2021, paperback
SKU:  9781949199949
A richly produced, craft- and activist-centered celebration of radical DIY publishing, for readers of Appalachian Reckoning .
In a remarkable act of recovery, So Much to Be Angry About conjures an influential but largely obscured strand in the nation's radical tradition--the "movement" printing presses and publishers of the late 1960s and 1970s, and specifically Appalachian Movement Press in Huntington, West Virginia, the only movement press in Appalachia. More than a history, this craft- and activist-centered book positions the frontline politics of the Appalachian Left within larger movements in the 1970s. As Appalachian Movement Press founder Tom Woodruff wrote: "Appalachians weren't sitting in the back row during this struggle, they were driving the bus."
Emerging from the Students for a Democratic Society chapter at Marshall University, and working closely with organizer and poet Don West, Appalachian Movement Press made available an eclectic range of printed material, from books and pamphlets to children's literature and calendars. Many of its publications promoted the Appalachian identity movement and "internal colony" theory, both of which were cornerstones of the nascent discipline of Appalachian studies. One of its many influential publications was MAW, the first feminist magazine written by and for Appalachian women.
So Much to Be Angry About combines complete reproductions of five of Appalachian Movement Press's most engaging publications, an essay by Shaun Slifer about his detective work resurrecting the press's history, and a contextual introduction to New Left movement publishing by Josh MacPhee. Amply illustrated in a richly produced package, the volume pays homage to the graphic sensibility of the region's 1970s social movements, while also celebrating the current renaissance of Appalachia's DIY culture--in many respects a legacy, Slifer suggests, of the movement publishing documented in his book.
Reviews:
"This is a history of Appalachian Movement Press and also a fascinating look into Appalachian history, regional radical politics, and print history. The fire of creation can be passed down through books like So Much to Be Angry About, and maybe this retelling of AMP's story could spark something else like it down the line." -Lucas Church, University of North Carolina Press
"The Appalachian Movement Press has been an inspiration for almost everything we do. An activist press focused on labor and art, and it was based in West Virginia? That's something we all need to hear about! Especially anyone unpacking the region's deep history of exploitation." -Dwight and Liz Pavlovic, founders, Crash Symbols
About the Author:
Shaun Slifer is an artist, writer, and museum professional based in Pittsburgh. He is the creative director at the West Virginia Mine Wars Museum and a founding member of the Justseeds Artists' Cooperative.