---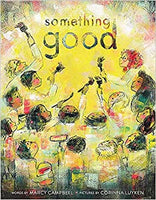 by Marcy Campbell and Corinna Luyken (Illustrator)
Little, Brown Books for Children

10/19/2021, hardcover
SKU: 9780759557420
A sensitive, timely and ultimately uplifting portrayal of how an elementary school struggles, copes, and heals together after "something bad" is discovered written on the wall, illustrated by bestselling artist Corinna Luyken
This kind of thing won't be tolerated at our school, the principal declares the day the "bad-something" is discovered written on a wall. The incident makes the kids nervous, giggly, and curious at first, but then they're worried, confused, sad and angry. Everyone is suspicious. Who did it, and why? They miss the days before the bad-something appeared, because everything--and everyone--feels different now. It takes a lot of talking, listening, looking, and creating something good together to find a way to heal. The story acknowledges that while the scars of such incidents remain, it is possible to teach tolerance and feel true community once again.
Written and illustrated by the acclaimed creators of Adrian Simcox Does NOT Have a Horse!, here is a brave book about the power of words that tackles one of the most difficult topics for elementary school-aged children--hate speech--in a direct, realistic, and empathetic manner.
Target age: 4-8
About the authors:
Marcy Campbell's debut picture book, Adrian Simcox Does NOT Have a Horse!, was a Junior Library Guild Selection, a Top 10 Indie Next Pick, Winner of the Comstock Read Aloud Award, and the Crystal Kite Award, and was translated into eight languages. She enjoys days filled with good-somethings in rural Ohio, where she lives with her husband, children and pets.
Corinna Luyken is the creator of several books for children including the New York Times bestseller, My Heart, The Tree in Me, and the highly praised The Book of Mistakes, which received four starred reviews. She has also illustrated Adrian Simcox Does NOT Have a Horse!, written by Marcy Campbell. She lives in Olympia, Washington with her husband, daughter, and two cats.