---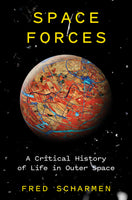 by Fred Scharmen
Verso
11/09/2021, hardcover
SKU: 9781786637352
The radical history of space exploration from the Russian Cosmists to Elon Musk
Many societies have imagined going to live in space. What they want to do once they get up there -- whether conquering the unknown, establishing space colonies, privatising the moon's resources -- reveals more than expected. In this fascinating radical history of space exploration, Fred Scharmen shows that often science and fiction have combined in the imagined dreams of life in outer space, but these visions have real implications for life back on earth.
For the Russian Cosmists of the 1890s space was a place to pursue human perfection away from the Earth. For others, such as Wernher Von Braun, it was an engineering task that combined, in the Space Race, the Cold War, and during World War II, with destructive geopolitics. Arthur C. Clark in his speculative books offered an alternative vision of wonder that is indifferent to human interaction. Meanwhile NASA planned and managed the space station like an earthbound corporation. Today, the market has arrived into outer space and exploration is the plaything of superrich technology billionaires, who plan to privatise the mineral wealth for themselves. Are other worlds really possible?
Bringing these figures and ideas together reveals a completely different story of our relationship with outer space, as well as the dangers of our current direction of extractive capitalism and colonisation.
Reviews:
"In this season of billionaires fleeing, however briefly, up the gravity well, we desperately need a knowledgeable guide to the human exploration of space, the choices it confronts us with, and what it portends for those of us left behind. Fred Scharmen is that guide. His brilliant new Space Forces makes it clear that if space is the place, it's not one that's different from Earth, and if and when we venture there for keeps, it's ourselves that we'll find there." -- Adam Greenfield, author of Radical Technologies
"As if from a vantage point somewhere in the endangered atmosphere, Space Forces reflects back a sense of what humans are so far by telling stories about their dreams of space travel. Mixed with their eccentric curiosities is their desire to make colonized property out of everything, their racist depravity, their clanking apparatus of national sovereignty, their extractivist hoarding, and their feverish dreams of capital accumulation. These are the little heroes of this little planet busy pursuing their rational plans to dominate it and those who might repair it." -- Keller Easterling, author of Medium Design
About the Author:
Fred Scharmen teaches architecture and urban design at Morgan State University's School of Architecture and Planning. He is the co-founder of the Working Group on Adaptive Systems, an art and design consultancy based in Baltimore, Maryland. His first book, Space Settlements was published in 2019. His writing has been published in the Journal of Architectural Education, Atlantic CityLab, Slate, Log, CLOG, Volume, and Domus. His architectural criticism has appeared in the Architect's Newspaper, and in the local alt-weekly Baltimore City Paper.