---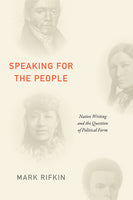 by Mark Rifkin
Duke University Press
9/3/2021, paperback
SKU: 9781478014331
In Speaking for the People Mark Rifkin examines nineteenth-century Native writings to reframe contemporary debates around Indigenous recognition, refusal, and resurgence.
Rifkin shows how works by Native authors (William Apess, Elias Boudinot, Sarah Winnemucca, and Zitkala-Sa) illustrate the intellectual labor involved in representing modes of Indigenous political identity and placemaking. These writers highlight the complex processes involved in negotiating the character, contours, and scope of Indigenous sovereignties under ongoing colonial occupation. Rifkin argues that attending to these writers' engagements with non-native publics helps provide further analytical tools for addressing the complexities of Indigenous governance on the ground--both then and now.
Thinking about Native peoplehood and politics as a matter of form opens possibilities for addressing the difficult work involved in navigating among varied possibilities for conceptualizing and enacting peoplehood in the context of continuing settler intervention. As Rifkin demonstrates, attending to writings by these Indigenous intellectuals provides ways of understanding Native governance as a matter of deliberation, discussion, and debate, emphasizing the open-ended unfinishedness of self-determination.
Reviews:
"Presenting new, insightful, nuanced, and persuasive readings of four key figures in nineteenth-century Native American literature, Speaking for the People is both timely and poised to become a classic study in Native and Indigenous studies, anthropology, and American literary studies. An interdisciplinary tour de force."--Birgit Brander Rasmussen, author of "Queequeg's Coffin: Indigenous Literacies and Early American Literature"
About the Author:
Mark Rifkin is Professor of English and Women's, Gender, and Sexuality Studies at the University of North Carolina, Greensboro. He is the author of several books, including Settler Common Sense,  Fictions of Land and Flesh: Blackness, Indigeneity, Speculation and Beyond Settler Time: Temporal Sovereignty and Indigenous Self-Determination.