---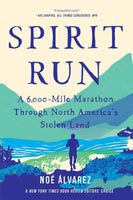 by Noe Alvarez
Catapult
3/2/2021, paperback
SKU: 9781646220533
In this New York Times Book Review Editors' Choice, the son of working-class Mexican immigrants flees a life of labor in fruit-packing plants to run in a Native American marathon from Canada to Guatemala in this stunning memoir that moves to the rhythm of feet, labor, and the many landscapes of the Americas (Catriona Menzies-Pike, author of The Long Run).
Growing up in Yakima, Washington, Noé Álvarez worked at an apple-packing plant alongside his mother, who slouched over a conveyor belt of fruit, shoulder to shoulder with mothers conditioned to believe this was all they could do with their lives. A university scholarship offered escape, but as a first-generation Latino college-goer, Álvarez struggled to fit in.
At nineteen, he learned about a Native American/First Nations movement called the Peace and Dignity Journeys, epic marathons meant to renew cultural connections across North America. He dropped out of school and joined a group of Dené, Secwépemc, Gitxsan, Dakelh, Apache, Tohono O'odham, Seri, Purépecha, and Maya runners, all fleeing difficult beginnings. Telling their stories alongside his own, Álvarez writes about a four-month-long journey from Canada to Guatemala that pushed him to his limits. He writes not only of overcoming hunger, thirst, and fear--dangers included stone-throwing motorists and a mountain lion--but also of asserting Indigenous and working-class humanity in a capitalist society where oil extraction, deforestation, and substance abuse wreck communities.
Running through mountains, deserts, and cities, and through the Mexican territory his parents left behind, Álvarez forges a new relationship with the land, and with the act of running, carrying with him the knowledge of his parents' migration, and--against all odds in a society that exploits his body and rejects his spirit--the dream of a liberated future.
Reviews:
This book is not like any other out there . . . A beautiful run. --Luís Alberto Urrea, author of The Devil's Highway
More than another tale of blistered feet and dehydration. It's about the immigrant experience, about the indigenous experience--and finding one's place as a witness when you're neither. -- Salon